CBD Capsules
Green Gorilla™ vegan CBD capsules are convenient, easy to use, and effective for quick relief and support. These herbal CBD hemp oil capsules are formulated using the same plant-based ingredients as our CBD oils to maintain potency and provide you with daily mind-and-body support.
Our Sleep, and Inflamend capsules each target a specific need. Experience the Malibu-lifestyle difference with Green Gorilla™ CBD capsules for sale online.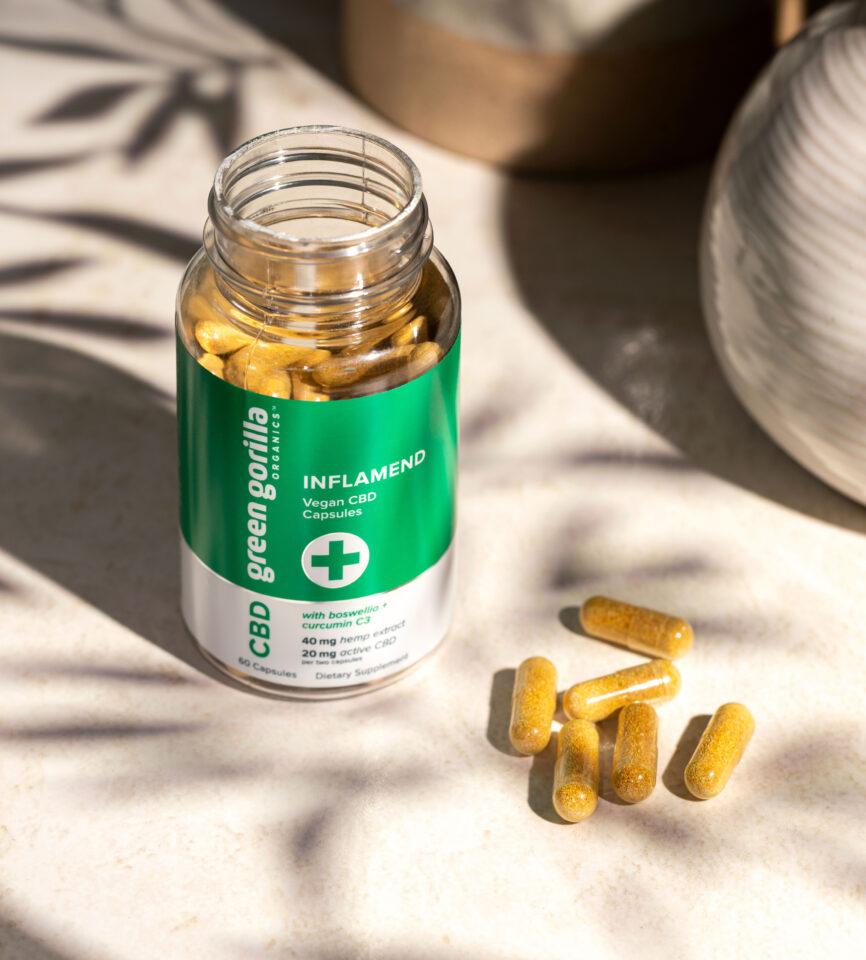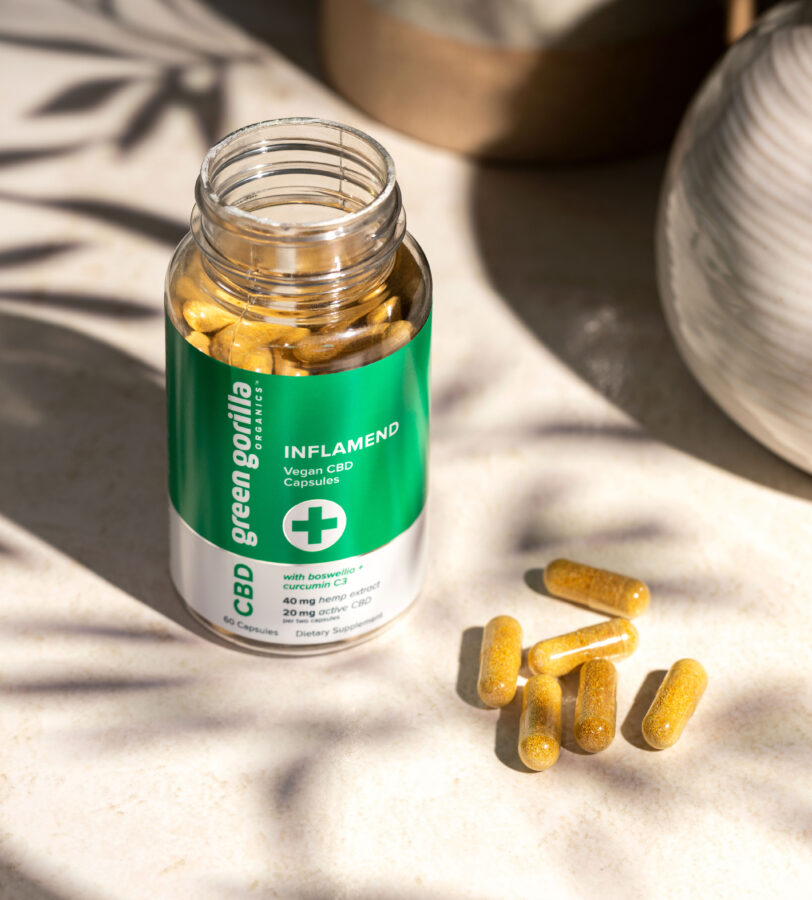 Shop All CBD Capsules for Sale
Find Natural Solutions with CBD Hemp Oil Capsules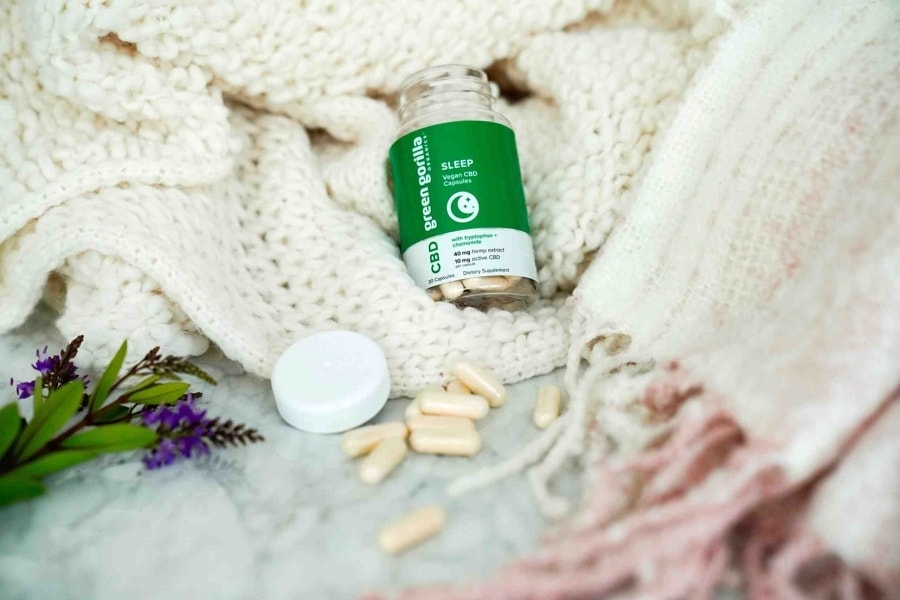 The magic of CBD lies in its ability to help ease your body and mind across a wide range of ailments. Whether you live with achy muscles, poor sleep, restless thoughts, or need daily defense and balanced support, we sell a hemp oil supplement that can help you reach your next wellness goal.
The Power of CBD in Capsule Form
Our CBD capsules for sale resemble vitamins and are just as easy to take. They have no taste, and they're small enough to ingest with a glass of water. This is one of the easiest, most straightforward ways of administering CBD daily.
Learn More About Organic CBD Capsules
We strive to keep our consumer base educated. Read our informative CBD 101 guide to understand more about the science behind our products.
What Others Are Saying
Medically Reviewed
We don't make empty claims about the health potential of CBD. The benefits of this amazing compound are backed by science and millions of happy users. Plenty of exciting research is out there, and more and more studies are constantly emerging as CBD becomes more known and accepted across the map.
One study showed that cannabidiol reduced the inflammatory response and behaviors associated with some health concerns. Another study published by Neurotherapeutics suggested cannabidiol as a viable method of relief for the worried mind. A variety of other studies show promising results when CBD is applied in the context of social nervousness, physical discomfort, and more.
CBD capsules for sale at Green Gorilla™ come at an exceptionally high quality standard. With all this research and more, you've got nothing to lose and everything to gain. Give natural relief a try today.
Frequently Asked Questions
How many CBD capsules should I take?
How much CBD you should use depends on your preferences, goals, and the product. Always refer to the label and check out our recommended guidelines.  
We highly recommend that new CBD users "start low and go slow." That means starting with the minimum suggested dosage on your product and working your way up slowly (no more than once a day) from there if symptoms persist. Don't be eager to take too much too quickly, or you could end up not finding the ideal dose for you. This way you can closely monitor your body's reaction to every amount of CBD and find out exactly what gives you the most relief. 
How is the hemp CBD for your capsules extracted?
We use advanced extraction methods with cold pressure CO2 supercritical and organic ethanol to keep you safe while ensuring maximum potency.
Many CBD companies use harsh chemicals to forcibly extract CBD from the hemp plant. This is a crude and cheap method, and it often results in a less than adequate result. Make sure you look into the extraction method of the company you buy your CBD from. It can tell you a lot about the quality of the product. 
Are your CBD capsules for sale safe?
Definitely. CBD is not psychoactive and nontoxic, so you are not impaired or at risk while taking it. Our CBD is derived from all-natural, organic hemp from our own U.S. farms, grown with the highest standards of quality and care. We use no pesticides, herbicides, or other harmful chemicals in the making of your product, and we keep our third-party lab results updated and completely transparent. 
Besides CBD, we use only the finest organic ingredients in our products. We hold these ingredients to the same high standard as our hemp and choose them very carefully so they deliver the optimal effect. There's nothing to lose with CBD—only natural relief to gain.
Are your products lab tested?
All of our CBD capsules for sale are independently tested by multiple ISO-certified third-party labs. We test regularly and we keep all of our results transparent and up-to-date for our customers to view at any time.
To read more about how every batch is thoroughly tested for quality and traceability, click here.
Who can use CBD capsules?
Thanks to our endocannabinoid system, anyone can! If you don't enjoy the taste of CBD oil, organic CBD capsules are a discreet way to supplement daily and on the go. 
CBD capsules are used by people of a wide variety of ages, needs, and backgrounds for its effectiveness and versatile benefits. Our CBD capsules for sale can help soothe and address a wide range of concerns, including nervous thoughts, discomfort, aches, inflammatory response, low energy, and poor mood. Depending on your wellness goals, you can use CBD in whatever way you see fit, whether you decide to take CBD hemp oil capsules, oils, edibles, or topicals.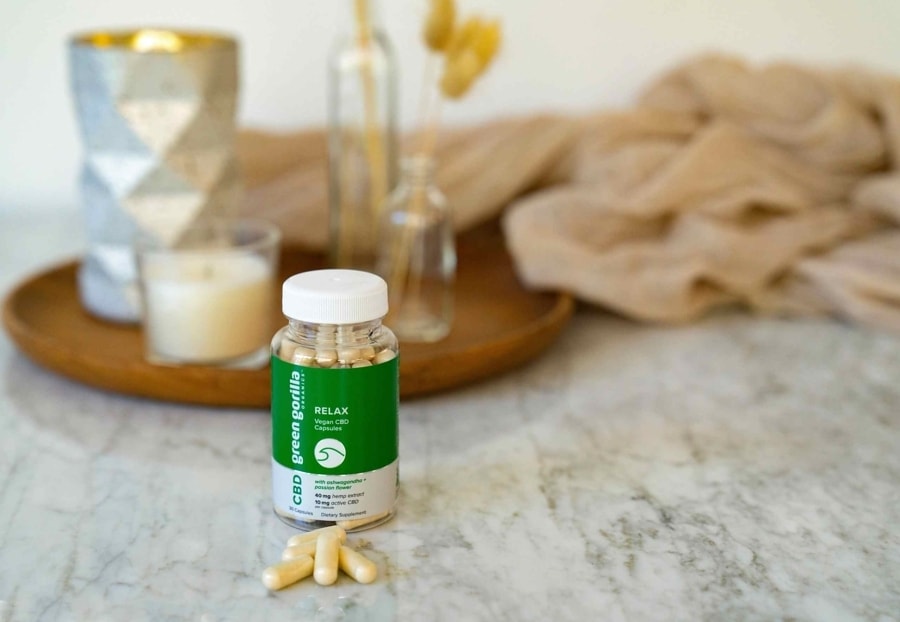 Why Green Gorilla™?
Our company was founded on the principle of bringing the incredible benefits of hemp and CBD to people worldwide. Green Gorilla™ was the very first USDA Certified Organic CBD brand, and we're proud that our CBD products continue to make a difference in people's lives every day.
We use sustainable practices, advanced organic extraction, and organic ingredients in all our CBD capsules for sale to deliver the purest, most potent CBD available today. It is our hope that Green Gorilla™ organic CBD capsules have a positive influence on your life.