What is CBD?
CBD stands for cannabidiol, the main active ingredient found in the hemp plant. It's a naturally occurring substance that has many health benefits. Unlike THC, the main chemical found in marijuana, CBD does not make you feel intoxicated. It's also important to know that hemp seed oil contains no CBD, as CBD can be found only in the leaves, stalks and flowers of the hemp plant.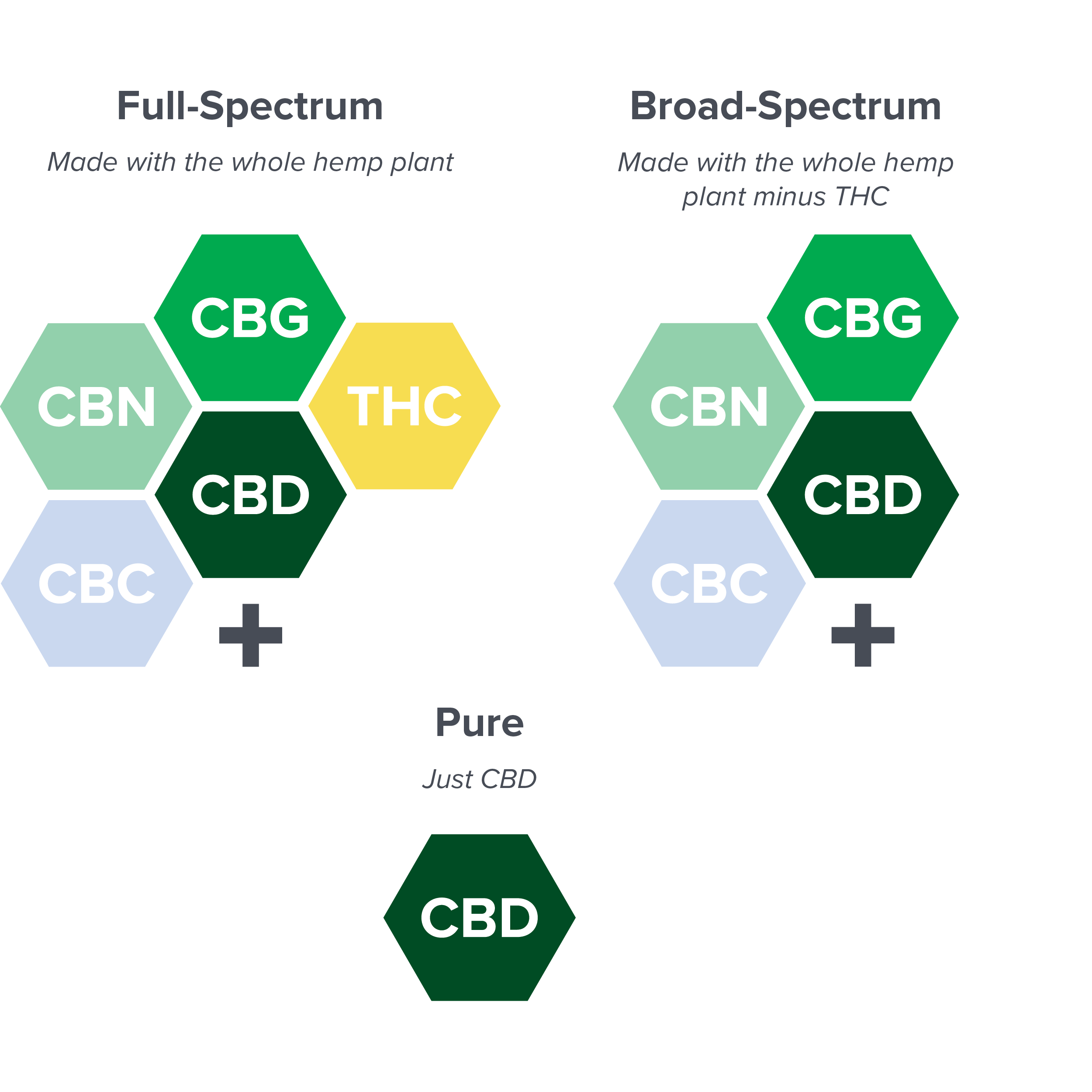 What types of CBD are there?
FULL SPECTRUM CBD
Full spectrum CBD products are made with a full range of natural cannabinoids, terpenes and hemp plant material. Full Spectrum products can contain up to the legal limit of 0.3% THC, but remain non-intoxicating due to the minuscule amount of THC.
BROAD SPECTRUM CBD
Broad-spectrum CBD products are made with CBD and a broad range of other cannabinoids, terpenes, and hemp plant material with 0% THC.
PURE CBD
These products are made with just pure CBD extracted from the hemp plant, no other cannabinoids from hemp or parts of the hemp plant are included and they have 0% THC.
WHAT ARE THE
BENEFITS OF CBD?




Everyday Wellness Support

Choosing the right CBD product for you has a lot to do with your preferences and desired effects. An excellent place to start is with infused edible products, like our Vegan Gorilla Gummies. Each gummy has 5mg of active CBD so you can start slow and build up to your ideal dose. Plus, our CBD gummies are certified organic and kosher, and they taste amazing.
For a dose you can easily customize to your preference and for faster absorption, CBD oils are the way to go. Green Gorilla offers both pure and whole plant CBD oils in a variety of different strengths. Ingesting CBD offers a more whole-body effect, while CBD topicals can provide relief for specific, localized areas. We recommend trying a variety of different delivery methods to find what works best for you.
Another thing to consider when choosing a CBD product is dosage. Your ideal dosage will largely depend on what effects you're looking for and which delivery method you choose. There's no one size fits all dose, everyone has their own unique body chemistry and needs. A good rule of thumb is to start low and go slow.
WHAT TYPE OF CBD SHOULD I TAKE?
CBD Oils
CBD oils are one of the most popular types of delivery methods. Oils are generally taken sublingually, or under the tongue. They bypass the digestive system and are absorbed quickly and completely through the mouth. This delivery method is ideal for fast, whole-body effects. CBD is fat soluble, so oil makes it easier for your body to absorb. Another perk of CBD oil is that it's very easy to tailor your dose to your exact needs and preferences. Green Gorilla offers a full line of both pure and whole plant full-spectrum CBD oils in a variety of potencies to make it easy to find your perfect strength. Our CBD oils feature a calibrated pump to guarantee consistent and easy dosing. This also prevents having to open the bottle, which preserves the oil more effectively than a dropper.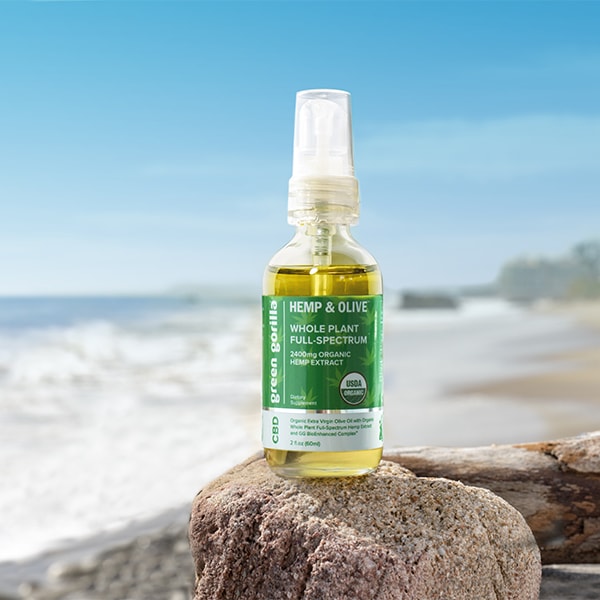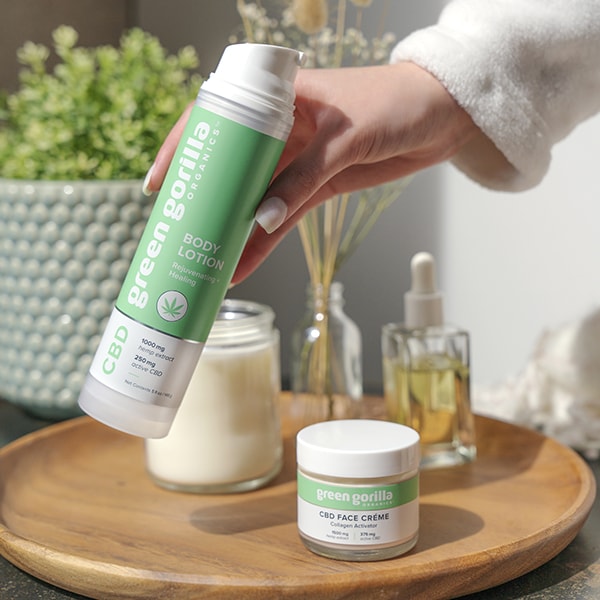 CBD Topicals
CBD topicals are applied and absorbed through the skin. Topicals can come in a variety of forms such as balms, lotions, sprays, etc. They are ideal for localized issues in specific areas of the body. However, up to 50% of CBD absorbs into the bloodstream through the skin. The effects of CBD topicals can be felt rather quickly. Green Gorilla's topical CBD balms are infused with healing botanicals for soothing relief.
CBD Edibles
CBD edibles or ingestibles are a convenient delivery method option that provide long-lasting effects, as well as a longer onset time. Green Gorilla's delicious berry flavored CBD gummies are vegan and contain 5mg of pure CBD in each gummy for easy dosing.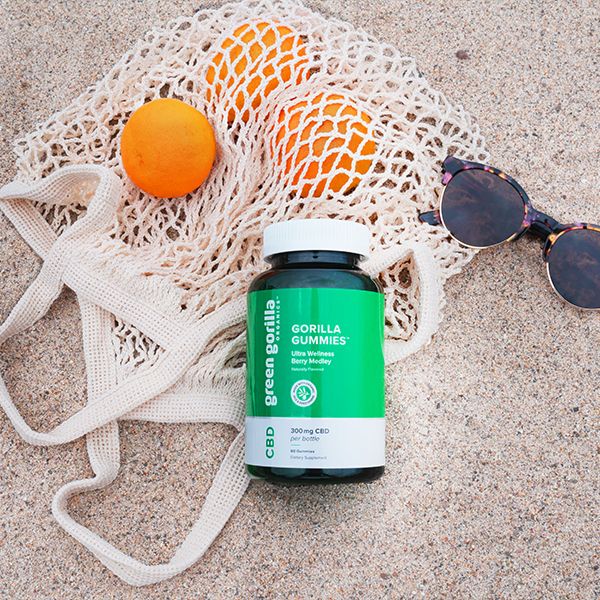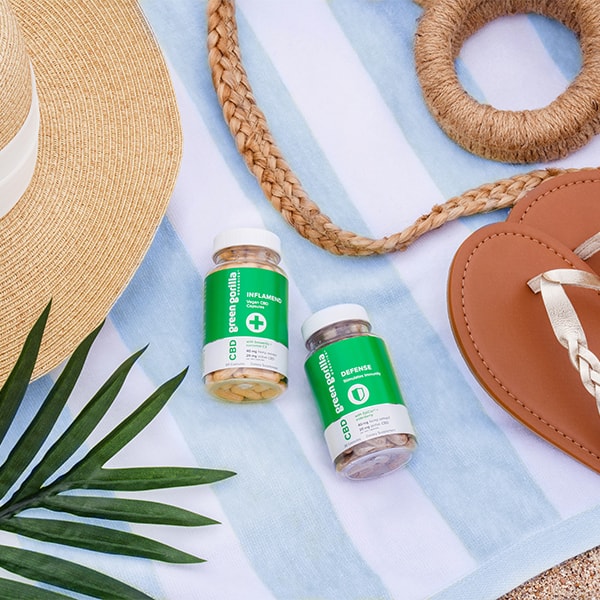 CBD Capsules
Green Gorilla's vegan CBD Capsules are easy to use, convenient, and effective for quick support and relief. These herbal capsules are formulated using organic and natural ingredients to maintain potency and provide you with daily support for your body and mind. Defense, Sleep, Inflamend, Relax, and Balance CBD capsules each include plant-based ingredients that target your specific needs.
CBD for Pets
Pet owners who trust and love our products say that CBD supplements and dog treats help maintain a strong foundation of overall health and wellness. We often hear that our furry friends are experiencing relief from everyday hip and joint discomforts, as well as finding a sense of calm. You can start with our CBD pet oils from pure to full spectrum for fast and effective relief. Our CBD dog treats are great for a quick and tasty pet snack, while our CBD pet balms are great for topical soothing absorption.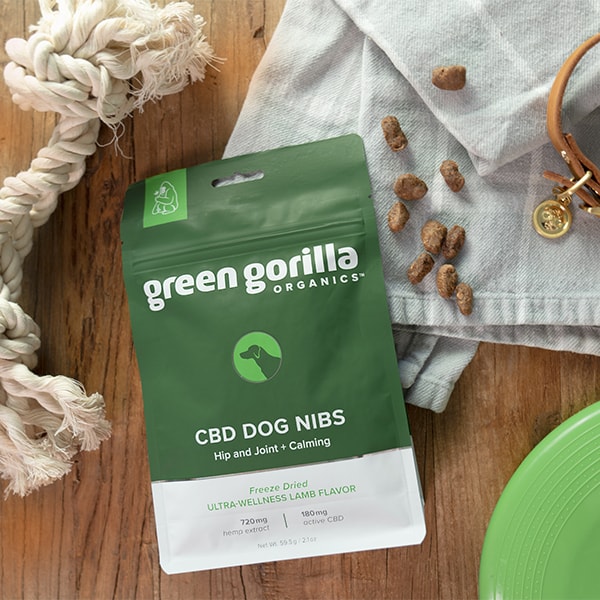 DON'T MISS OUT
Sign up for the latest CBD news, blogs, and promotions.