CBD 101
CBD FAQ: What Is CBD?
CBD stands for cannabidiol, the main active ingredient found in the hemp plant.
It's a naturally occurring substance that has many health benefits. For example, cannabinoid derivatives have natural botanical properties. Unlike THC—the famous compound found in cannabis—CBD does not make you feel intoxicated. It's also important to know that hemp seed oil contains no CBD, as CBD can be found only in the leaves, stalks, and flowers of the hemp plant.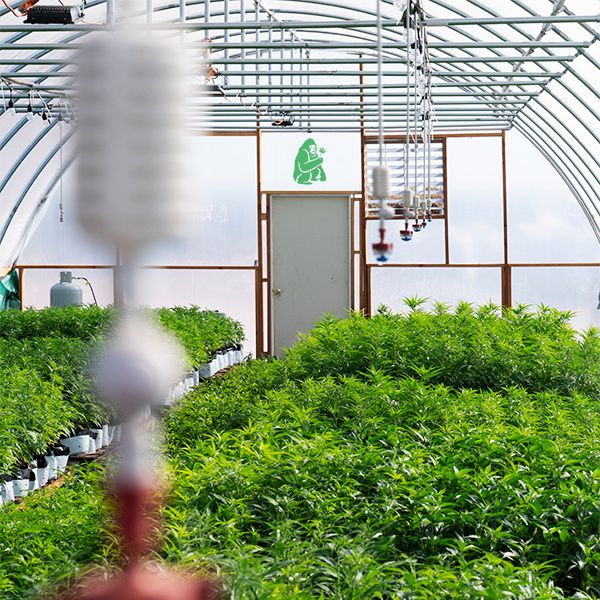 CBD 101: The Basics
CBD FAQs
Where does CBD come from?
CBD is a non-intoxicating cannabinoid from the hemp plant, a subspecies of cannabis. Hemp is a phenomenal plant known for its hundreds of uses in textiles, skincare, and beyond. Hemp is a sustainable crop that requires little water and maintenance. It is also known for its ability to remove carbon from the air and clean soil.
What are some CBD health benefits?
CBD interacts with the endocannabinoid system (ECS) which is responsible for maintaining homeostasis in the body, or an optimal state of balance and equilibrium. CBD interacts with cannabinoid receptors found throughout the body, promoting optimal wellness and an overall sense of calm and well-being. 
One important thing to note in our CBD 101 guide: many people integrate CBD into their daily health routine as a natural way to support their body, ease their mind, aid recovery, and help with their sleep cycle.
What is organic CBD?
In 2016, Green Gorilla™ became the first hemp CBD company to be certified organic. Our products are either 100% USDA Certified Organic CBD or certified organic made with organic ingredients, which means that the product has 70% or more certified organic ingredients. 
Many brands claim they sell organic CBD yet lack products that have been verified and certified by the USDA with official seals. Our certification ensures that the ingredients used to make the product were cultivated, processed, and manufactured using the highest standard of organic techniques.
What's the difference between hemp and marijuana?
This common question stems from the fact that hemp and marijuana look and smell very similar. However, while they are both cannabis subspecies, we want to emphasize in our CBD 101 guide that they're entirely different plants. 
Marijuana contains high levels of the cannabinoid THC, which is psychoactive. Hemp, on the other hand, contains only negligible amounts of THC and is not considered psychoactive. For hemp to be legally produced and distributed throughout the United States, it must contain less than 0.3% THC.
CBD FAQs
How and where is your hemp grown?
Gorilla FarmCo® grows hemp throughout the spring and summer using organic and sustainable agricultural practices. We plant our crops directly in the ground outdoors and use organic soil amendments and clean aquifer water.
How is your CBD extracted?
One big CBD 101 takeaway you should note: proper extraction makes a difference. After our organic hemp plants have been harvested, we extract CBD using CO2 and organic ethanol to ensure that the product is safe and able to provide users with maximum CBD health benefits.
Many other CBD brands extract CBD with toxic solvents and chemicals, which can leave residue in their oils and CBD products. That's why it's important to make sure you purchase CBD from a trusted source that undergoes thorough lab testing.
How are your CBD products made?
Our formulas blend CBD with potent, organic ingredients including turmeric, eucalyptus, extra-virgin olive oil, and lavender. We manufacture our products in FDA Registered and/or USDA Certified Organic facilities, which ensure adherence and compliance with current Good Manufacturing Practices (cGMP) procedures and standards. We always follow quality and control guidelines set by the FDA to produce and distribute finished products to consumers.
Is your CBD lab tested for safety and efficacy?
We use third-party lab testing for all of our products to ensure that there are no pesticides, microbials, or heavy metals in your product. QR codes and lab tests are posted on the packaging of our products and online for easy access.
CBD 101: How It's Made
CBD 101: Full Spectrum vs. Broad Spectrum vs. Pure CBD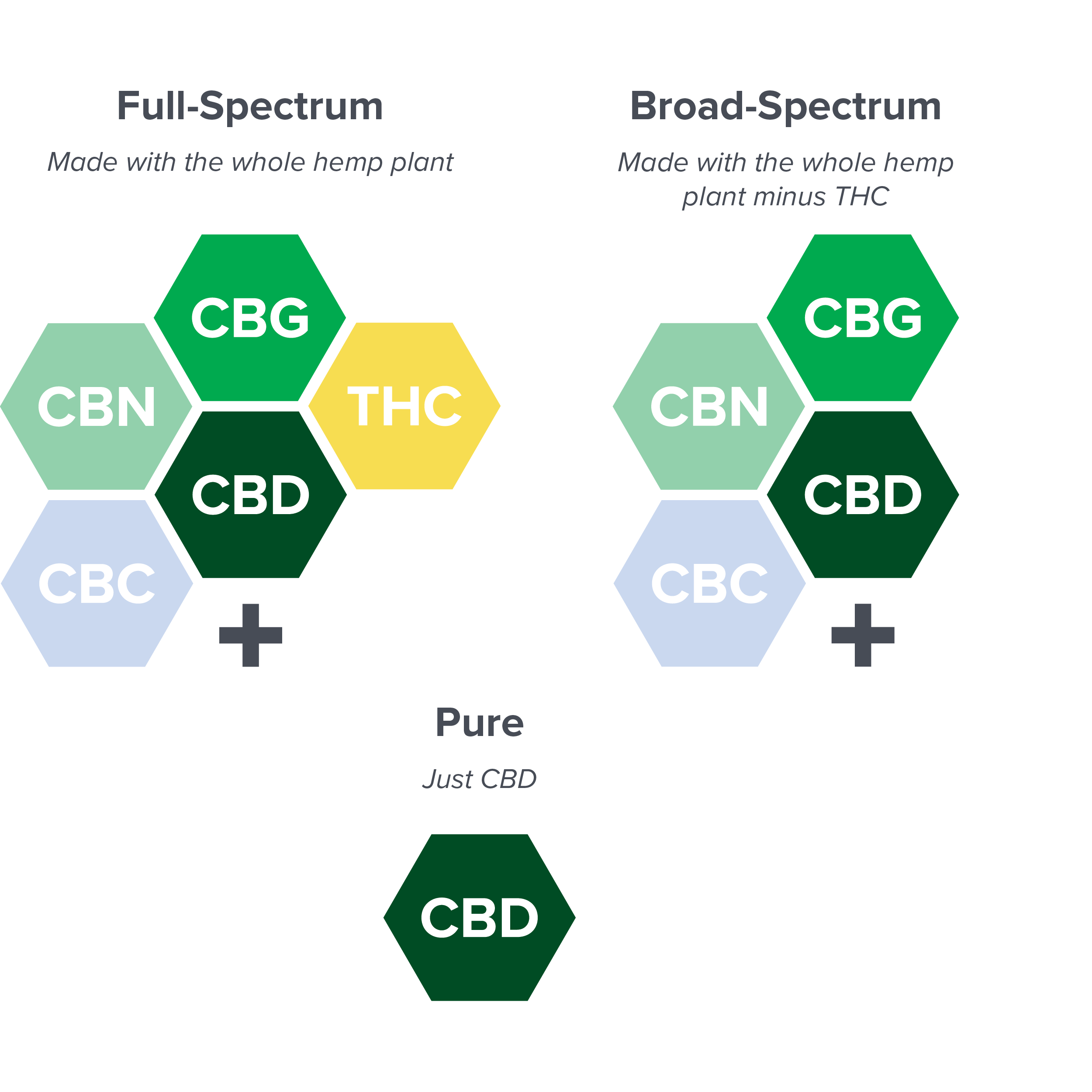 What Types of CBD Products Are There?
Another important CBD FAQ, we'll cover the differences below:
FULL SPECTRUM CBD
Full spectrum CBD products are made with a full range of natural cannabinoids, terpenes, and hemp plant material to provide a wide range of CBD health benefits. Full spectrum products can contain up to the legal limit of 0.3% THC but remain non-intoxicating due to the negligible amount of THC.
BROAD SPECTRUM CBD
Broad-spectrum CBD products are made with CBD and a broad range of other cannabinoids, terpenes, and hemp plant materials. Unlike full spectrum CBD, these products contain 0% THC.
PURE CBD
These products are made with only pure CBD extracted from the hemp plant. Because it doesn't include other cannabinoids from hemp or components of the hemp plant, these products contain 0% THC.
CBD 101: The Benefits
What Are the Main CBD Health Benefits?
CBD has grown in popularity among people seeking to live a healthy, vibrant lifestyle—whether the goal is easing recovery and stress, supporting general wellness, or gaining peace of mind.

IMMUNE SUPPORT

CALMING RELIEF

HEALTHY SLEEP SUPPORT

RECOVERY SUPPORT
EVERYDAY WELLNESS SUPPORT

MOOD AND FOCUS SUPPORT
CBD FAQs
What type of CBD should I take?
Choosing the right CBD products for you has a lot to do with your preferences and desired effects. If you're a beginner using this site as a guide, we recommend experimenting with different delivery methods to find what works best. You may find that, depending upon the purpose, you may use different products, including oils, edibles, capsules and topicals.
An excellent place to start is with infused edible products, like our vegan Gorilla Gummies™. Each gummy has 5mg of active CBD so you can start slow and build up to your ideal dose. Plus, our delicious CBD gummies are certified organic and kosher.
For a dose you can easily customize to your preference and for faster absorption, CBD oils are the way to go. Green Gorilla™ offers both pure and whole plant CBD oils in a variety of different strengths for a wide range of CBD health benefits. Ingesting CBD offers a more whole-body effect, while CBD topicals can provide relief for specific, localized areas. 
How much CBD should I take?
CBD 101: What Green Gorilla™ Products Are Right for You?