The most confusing thing about choosing a CBD product might be decoding the labels. With little regulation in the budding hemp industry, it can be hard to compare apples to apples based on product packaging alone. At Green Gorilla™, we want to make it easier for you to identify the basic CBD label requirements every product should have, understand what you're buying, and find the perfect product for your health and wellness. Discover how to read a CBD oil label and what CBD oil labels must include today!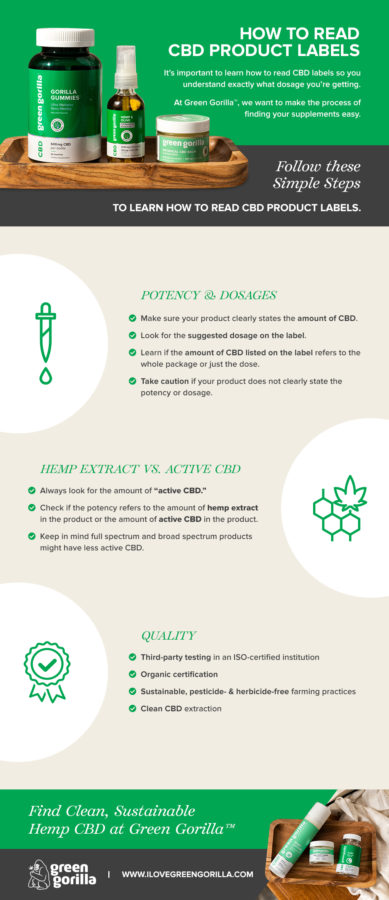 Potency and Dosage
Two of the most important things to search for when reading a CBD product label are potency and dosage. One major CBD label requirement is to state the concentration of CBD in milligrams somewhere on the package. When you find this concentration, you'll want to figure out whether it refers to the amount of CBD per dose or the amount of CBD altogether.
Knowing how to read a CBD oil label and being able to determine how much CBD you're getting in total and per serving is crucial for deciding which product is best for your needs and worth your dollar.
Due to our high business standards and commitment to transparency, Green Gorilla™ CBD label requirements include clearly stating the total amount of CBD on the front of the product and the suggested dose per serving on the back. Most users agree that CBD oil labels must include the concentration for safe, consistent dosing. Be wary of any product that does not explicitly state the amount of CBD in a serving.
Hemp Extract vs. CBD
When learning how to read a CBD oil label, it's important to discern whether the potency information refers to the amount of hemp extract or the amount of active CBD. Some CBD products are made with full spectrum—or whole plant—hemp extract, which contains a variety of terpenes, polyphenols, and cannabinoids, including CBD and THC. Many people are averse to THC even in trace amounts, so determining whether or not THC is present should be a CBD label requirement for every brand.
The percentage of active CBD found in hemp extract can vary. For example, Green Gorilla™ offers both pure and full spectrum CBD products. Our Organic Full Spectrum CBD Oil 1200mg contains 1200mg of hemp extract per bottle, but only 25% of it is active CBD. That means each 1200mg bottle contains approximately 300mg of active CBD. Alternatively, Certified Organic Pure CBD Oil 600mg is comprised of 600mg of active CBD per bottle. Because there are fewer compounds than whole plant oil, pure CBD oil is easier for the body to process.
Quality Assurance
Part of understanding how to read a CBD oil label means knowing what to look for when it comes to quality assurance. After you find the potency and type of CBD product that suits your needs, it's important to ensure that the product is tested by independent third-party labs to verify that the information stated on the label is true. What CBD labels must include varies by location and company standards. In such a new and unregulated market, independent third-party lab testing is the only way to confirm that what you see is what you get. You should also look out for organic certification and verified good manufacturing practices, which have very high standards and specific CBD label requirements in order to be legally displayed on the packaging.
Green Gorilla™ was the first and is one of very few hemp CBD brands to be certified organic by the USDA. Our sustainably sourced ingredients are as pure as possible so you get to experience the full power of nature. We encourage you to make the responsible choice for your body and the environment by choosing our organic seed-to-shelf supplements. All of our products featured meet the CBD label requirements we've just specified, so you know exactly what you're getting every time you use any of our balms, gummies, and more.