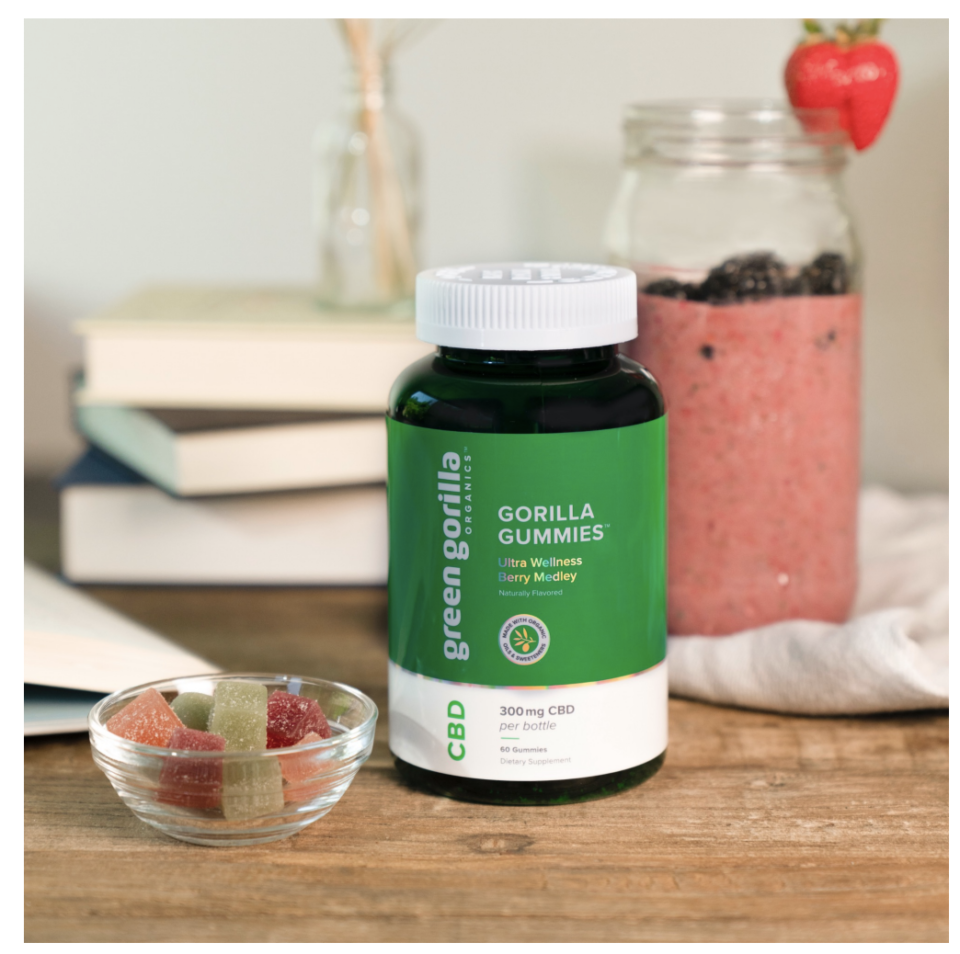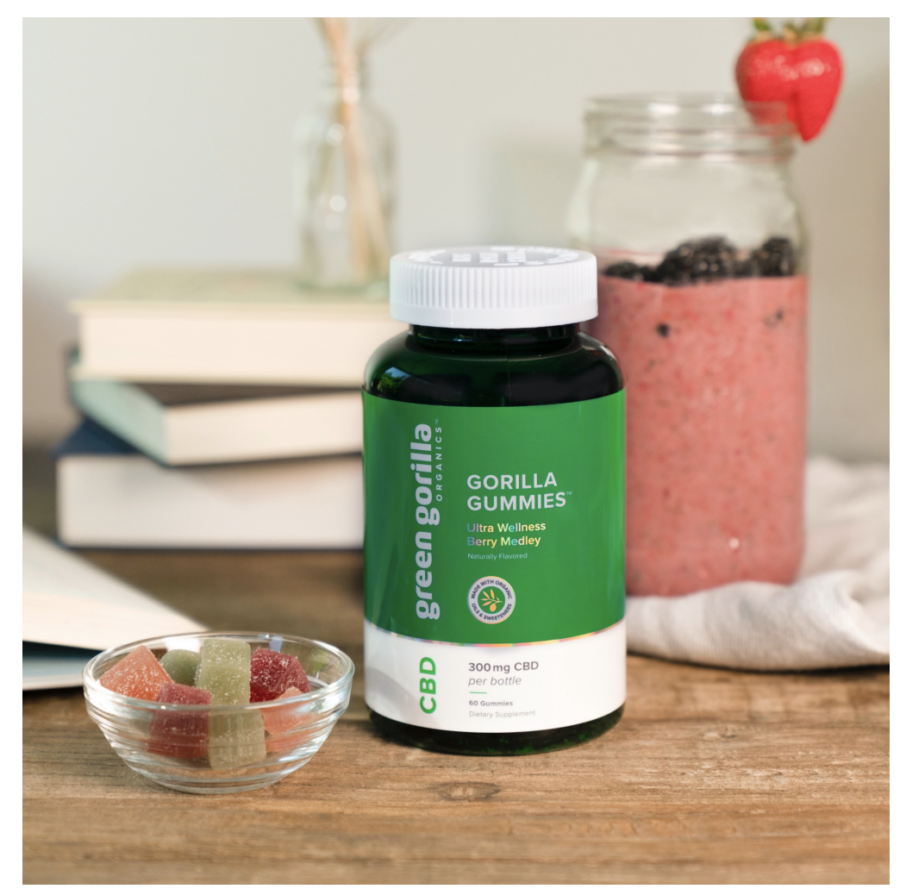 Green Gorilla™ CBD Products
CBD is taking the world by storm, and Green Gorilla™ is your trusted industry leader in organic hemp products. Discover Malibu-inspired CBD products for sale, including gummies, oil, pet care, skincare, capsules, and much more.
For certified organic quality you can rely on, there's no better place to buy CBD online than Green Gorilla™. Find the perfect product for your lifestyle and your needs by taking our short quiz!
Shop All CBD Products for Sale
Shop All CBD Products
Showing 1–15 of 30 results
Freeze Dried CBD Dog Nibs Travel Size

$

5.99 – or subscribe and get

20% off

Out of Stock

USDA Certified Organic

Our hemp chews are an excellent snack that can help boost your dog's overall health, wellness, and care.

Humanely raised lamb, 15mg of CBD, and the finest organic co-ingredients make up these delicious bite-sized snacks. Each pack contains 5–6 niblets, and each nib provides 3mg of CBD. Take it with you during outings and supplement your pup on the go! Your best friend will agree: these are some of the tastiest, most wholesome dog snacks online that you'll find!

Also available in 180mg and a 15mg 12-pack.

Organic CBD Gorilla Gummies™ 50mg

$

5.99 –

$

71.99 – or subscribe and get

20% off

Out of Stock

A daily dose of these certified organic CBD gummies can help support everyday recovery, mood, rest, and overall well-being. Our formula includes delicious, all-natural ingredients that are easy to incorporate into any lifestyle. Experience a quick and tasty start to your wellness journey when you order Green Gorilla™ CBD gummies today.

Available in 600mg.

Tote Bag

$

7.99 Add to Cart

Show off your love for Green Gorilla™ USDA Certified Organic products! This 100% cotton tote bag proudly expresses your pride in supporting organic, sustainable, and plant-based CBD. It's the perfect companion for running errands, shopping, and traveling. Express your passion for cleaner, greener CBD and farming practices!

Sale!

Organic CBD Balm for Dogs & Pets 300mg

20% off

– or subscribe and get Add to Cart

$49.99

Your pet doesn't have to suffer from aching joints, low energy, or stress all alone. Certified organic CBD hemp balm for dogs from Green Gorilla™ can help soothe your furry friend's muscles and keep them calm throughout the day. Along with pure, THC-free CBD, this soothing balm is infused with a potent blend of plant-based ingredients that protect and nourish your pet's skin. See why so many pet owners are turning to CBD balm for dogs!

Sale!

CBD Capsules – Defense

20% off

– or subscribe and get Add to Cart

Support a healthy immune system with organic 10mg CBD oil capsules from Green Gorilla™! Paired with our GG BioEnhanced Complex formula for superior bioavailability, these vegan immune defense supplements feature a potent blend of EpiCor®, elderberry, vitamin C, reishi mushroom, zinc, and broad spectrum hemp extract. When you buy CBD pills with natural immune support, you can promote a stronger body and mind today for a more confident tomorrow. This product has 0% THC.

Each capsule contains 20mg hemp extract with 10mg of active CBD.

Sale!

CBD Body Lotion 1000mg

20% off

– or subscribe and get Add to Cart

Our luxurious broad spectrum 1000mg CBD cream provides deep nourishment and relief that sinks beneath the skin. Its unique formula utilizes grape cell extract, natural enzymes and antioxidants, and moisturizing organic ingredients designed for long-lasting hydration. Blended with 250mg of active CBD and 1000mg of hemp extract, this lotion helps ease discomfort caused by sore muscles and joints. Buy it today at Green Gorilla™!

Sale!

CBD Capsules – Balance

20% off

– or subscribe and get Add to Cart

Finding the strength necessary to manage day-to-day life is no easy feat. Luckily, we sell vegan CBD capsules packed with 45mg of broad spectrum hemp extract and 15mg of active CBD per capsule. 

One capsule a day can help ease a troubled mind, synchronize your internal rhythms, and promote healthy bodily functions. Trust Green Gorilla™ to deliver the best certified organic CBD wellness products available! This product has 0% THC.

Certified Organic Pure CBD Oil 450mg

$

27.99 – or subscribe and get

20% off

Add to Cart

Certified Organic

Bask in the Malibu lifestyle with fast-acting CBD isolate oil, for sale by Green Gorilla™. Daily users of CBD believe it helps relax a worried mind, soothe aches, enhance focus, and support their overall health. 

This oil comes packaged in a 1 fl oz/30ml bottle. Like all our oils sold online, this pure CBD oil is formulated using our GG BioEnhanced Complex and simple, wholesome ingredients. Get all the mind-and-body benefits of 450mg active CBD with 0% THC. 

Also available in 600mg (lemon or unflavored), 1500mg, 3000mg & 7500mg

Organic Pure CBD Oil For Dogs & Pets 450mg

$

27.99 – or subscribe and get

20% off

Add to Cart

Certified Organic

Support your pet with fast-acting, active CBD that promotes overall wellness and calms their nerves. A positive experience with pure CBD oil for your cat or dog eliminates worry for you!

Green Gorilla™ sells CBD oil for dogs online, crafted from real, wholesome ingredients to better help your four-legged companion. This unflavored oil has 0% THC and arrives with 450mg of CBD. 

Discover the difference farm-to-shelf hemp CBD can make in your pet's life!

Sale!

CBD Face Crème

20% off

– or subscribe and get Add to Cart

Green Gorilla™ sells a truly one-of-a-kind CBD cream for sale. This nourishing hemp face moisturizer is infused with a powerful combination of resveratrol and Coenzyme Q10. Formulated to rejuvenate all skin types, our CBD collagen cream is elevated by 1500mg of broad spectrum hemp extract and contains 375mg of active CBD. Its collagen activators are potent enough to support and protect damaged cells while still being gentle enough to soothe sensitive skin. 

Ready to try the finest THC-free CBD face cream for sale? Unlock your skin's maximum wellness potential today!

Freeze Dried CBD Dog Nibs

$

32.99 – or subscribe and get

20% off

Add to Cart

$32.99

These savory ultra-wellness nibs are a convenient and tasty way to start giving your dog CBD! At Green Gorilla™, we sell CBD dog snacks made with humanely-raised lamb, 180mg of active CBD, and the cleanest organic co-ingredients. 

Each freeze-dried lamb nib contains approximately 3mg of CBD. Every bag contains about 60 nibs. 

Also available in 15mg Travel-Size 12 Pack and 15mg Travel-Size Pack.

Sale!

CBD Capsules – Inflamend

20% off

– or subscribe and get Add to Cart

Help relieve discomfort from aching muscles and joints with Inflamend daily supplements. Our potent formula features a blend of all-natural ingredients, including 20mg of CBD per 2 capsules.

Green Gorilla™ Inflamend capsules are vegan, THC-free, and packed with powerful antioxidants and amino acids. Take your recovery into your own hands with certified organic CBD oil capsules for sale. 

Discover the Power of CBD

Green Gorilla™ is proud to use regenerative and sustainable farming practices for the best CBD you can buy online. Our CBD shop online sells only premium organic products with ingredients derived from nature with no GMOs.

As a Hemp Industries Association member, we work to advance the hemp economy and educate the public about hemp. Our mission is to share the beauty of hemp with the world.

Certified Organic

All our products are certified organic by Oregon Tilth, making us one of the few places you can buy CBD online that's been sourced from 100% organic hemp.

THC-Free Options Available

None of our products contain more than 0.3% of the psychoactive compound THC, but if you need 100% THC-free CBD, we have that, too! See our broad spectrum and pure CBD products for sale.

Frequently Asked Questions

Why Green Gorilla™?

We keep our prices competitive without ever sacrificing quality. If a drugstore price seems too good to be true, it probably is. We never use low-quality, inorganic ingredients.

How does the subscription plan work?

If you use our CBD products for sale daily, you can choose a subscription plan and get your product delivered on a regular monthly basis. Select this option on the product page before buying our CBD online and never worry about restocking again.

Where do you ship?

Green Gorilla™ ships nationwide. We also retail in several CBD shops online, brick-and-mortar retailers, grocery chains, and pet stores, all of which you can find using our store locator here. 

How are your products tested?

All our products are independently lab tested by multiple ISO-certified facilities. We use no harsh chemicals or pesticides, and every test is traceable and quality assured.

Why Buy CBD Online at Green Gorilla™

Green Gorilla™ founders, Sir Steven Saxton and Katherine Guevara Saxton, became hemp entrepreneurs back in 2013 long before it became a trend. They witnessed the miraculous effects CBD had on a terminally ill dog. Eventually, Steven began to try it for injury relief—with incredible results.

CBD's profound impact on the Saxton family has inspired their mission to make its healing properties available to anyone interested in buying CBD online. Green Gorilla™ brings sustainable, organic CBD products into people's lives with the goal of making a difference every day. Find CBD products for sale with quality you can trust.
Shopping Cart