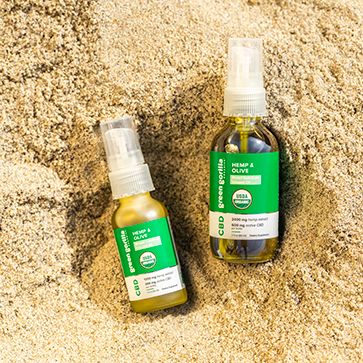 Broad Spectrum CBD
Broad spectrum CBD oil contains 0% THC while preserving the integrity of the whole plant to maintain a broad array of cannabinoids and phytochemicals.
The plant's natural terpenes, flavonoids, and cannabinoids work with one another to create an entourage effect that effectively supports your endocannabinoid system. We also infuse our products with polyphenol-rich extra-virgin olive oil, turmeric, and rosemary for the highest bioavailability possible.
Supplement a healthy lifestyle and start your journey towards wellness. Try Green Gorilla™ THC-free CBD oil and discover the difference it makes in your life!
Shop All Broad Spectrum CBD
THC-Free CBD Oil
Green Gorilla™ broad spectrum CBD contains every element of the hemp plant minus THC. With us, you're getting the purest, most potent form of CBD on the market—all organically derived.
When every component of the hemp plant works together, a phenomenon known as the entourage effect helps increase the overall effectiveness. Our formulas are remarkable, and we invite you to try them out and learn why!
Certified Organic
Our products are 100% farm to shelf. We use non-GMO organic ethanol extraction to derive CBD from the hemp plant, which ensures the highest potency and finest quality of our products.
Independently Tested
Every Green Gorilla™ product is tested by an independent party at multiple facilities to ensure safety and quality. See the results for yourself!
Frequently Asked Questions
Can CBD help me sleep?
CBD helps restore the overall balance of your body's natural endocannabinoid system. This includes the rhythm of your sleep schedule, daytime energy, appetite, and much more!
What testing do you use?
All our products are certified organic by Oregon Tilth and independently third-party tested for safety and quality. When you shop here, you know exactly what you're getting.
Is broad spectrum CBD psychoactive?
Not at all! Any trace of THC is removed from our broad spectrum CBD products. Nothing here will make you "high" or test positive on a drug test.
What else can CBD help me with?
THC-free CBD oil has been observed to relieve aches, restlessness, apprehension, and other modern life stressors. It can help balance your body and mind for daily calm and focus.
What Sets Our Broad Spectrum CBD Apart?
Green Gorilla™ was founded with the mission of bringing the benefits of hemp to people around the world. We emphasize sustainability, quality, thorough testing, and organic sources every step of the way.
As a company, we aim to be of the highest quality, use the most organic ingredients, and operate with the best practices on the market. We want our CBD to make a difference in as many people's lives as possible, and we passionately strive towards that goal.