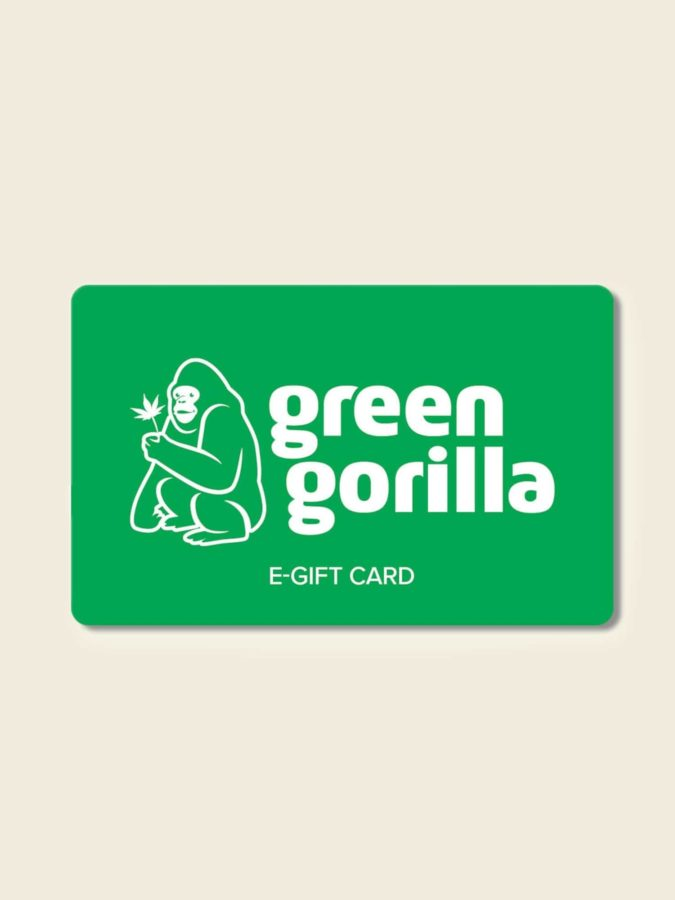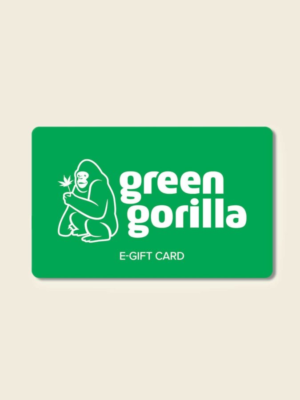 Gifts
Shopping for friends and family isn't always simple, but Green Gorilla™ makes it easier. We sell a variety of Malibu-inspired CBD gifts and goods so everyone can experience all-natural wellness. Make sure they get exactly what they want with one of our reloadable E-Gift Cards!
Shop Green Gorilla™ CBD Gifts and Goods
Shop All Gifts
Showing the single result
Green Gorilla E-Gift Card

$

25.00 –

$

1,000.00

Out of Stock

Give the gift of clean, green, organic hemp! These CBD gift cards can be used to purchase all Green Gorilla™ products. From oils to gummies and botanical balms, your lucky recipient can enjoy everything CBD has to offer.

Reload funds onto an existing gift card and check your balance using the tools below.

Explore Everything Green GorillaTM Has to Offer

Green Gorilla™ is proud to be a USDA Certified Organic CBD brand. We hold up to that standard of quality throughout our entire selection of products. No matter what your lucky recipient chooses to purchase with their gift card, they're guaranteed to find effective, all-natural goodness.

Looking for More CBD Gifts and Goods?

Everyone's body and mind work differently, which is why we've curated such a large selection of CBD products. If you're uncertain your recipient will like CBD oil, consider our delicious gummies or soothing skincare instead. You can even browse our CBD bundles for an impressive range of thoughtful, ready-made gift packages.

CBD for Every Lifestyle

While you're busy shopping for others, don't forget about your own well-being! Take our short questionnaire and uncover the right product for your health needs.

Frequently Asked Questions

Is CBD psychoactive?

Not at all. Our CBD is derived from hemp that legally must contain less than 0.3% THC. Since THC is the psychoactive compound found in cannabis and not CBD, you never have to worry about getting "high." 

We also offer pure CBD oils and broad spectrum CBD that contain 0% THC. 

Where can I learn more about CBD?

Right here! We keep an up-to-date blog on the latest trends and information surrounding CBD. These articles dispel myths and provide you with useful information that helps you get the most out of your product.

How does CBD work?

CBD binds to the cannabinoid receptors in the body's endocannabinoid system. CBD acts as a potent antioxidant and activates different receptors in your brain, gut, and immune system. These receptors have control over many of your body's essential functions, including sleep schedules, sensations of discomfort, and stress management. 

What's your shipping policy?

We ship nationwide and we offer free shipping on orders over $75.

If you're a subscriber, you'll always enjoy free shipping.

For additional information, read our shipping policy here.

Why Green GorillaTM?

Green Gorilla™ was founded with the mission of spreading the word about high-quality, organic CBD at a time when not many people knew the difference it could make in their lives. We continue to pursue this mission by creating only the purest, most potent farm-to-shelf CBD gifts and goods on the market today.

CBD has become highly popular, but we didn't just jump on the bandwagon—we built the bandwagon! We were the very first USDA Certified Organic CBD brand in the country, and we continue to set the industry standard for organic quality in our products. Explore Green Gorilla™ and discover what sets us apart!
Shopping Cart