CBD Skincare
Infused with a potent blend of CBD oil and powerful ingredients like arnica, eucalyptus, and lavender, skincare products by Green Gorilla™ provide an instant cooling feeling to help calm both the body and mind.
Everyone has different skin, so we have a variety of options to choose from. From intensive relief CBD hemp balms to rich body lotion, all of our CBD balms for sale are packed with nourishing moisture and protection. Make a positive change in your skincare routine today when you buy CBD balms from Green Gorilla™!
Transform Your Skin with CBD Hemp Balms, Lotions & More
Luxuriate in Organic CBD Balm for Sale
CBD is famous for working miracles on a topical level. Its anti-inflammatory properties, rejuvenating antioxidants, and protective qualities are everything you seek in a skincare product.
Green Gorilla™ CBD hemp balms go even further. We take an organic approach every step of the way, and our products are formulated with all-natural goodness that seamlessly complements our hemp CBD oil. Try it for yourself!
Incorporate into a Healthy Routine
Your skincare routine just got a whole lot greener! Adding the nourishing benefits of CBD to your everyday skin routine can produce incredible results. You'll love how healthy and soft your skin is thanks to our line of CBD balms for sale!
Subscribe and Save
With our convenient subscription service, you can buy CBD balm once and get incredible skincare products delivered directly to your door every month.
Frequently Asked Questions
Is CBD safe?
CBD is an active healing compound that is nontoxic and non-psychoactive to humans. Green Gorilla™ uses organic hemp and good manufacturing practices, and all products are third-party lab tested for purity and potency. 
As with all of our products, we source only the purest organic ingredients, so you never have to worry about your health or safety. If you're taking any medication or if you have a medical condition, you should consult your physician. Do not buy full spectrum CBD oil if you are pregnant or nursing. CBD is not intended for use if you're under the age of 18.
What are the benefits of your CBD balm for sale?
Green Gorilla™ skincare products combine hemp with powerful herbal oils to nourish the skin. Our balms have an abundance of phytonutrients and essential fatty acids, making them highly moisturizing, conditioning, and protecting. 
Organic sunflower and olive oils deliver rich hydration while creamy, organic beeswax seals it in. Natural botanicals like lavender and peppermint soothe dryness and calm irritation. Meanwhile, ingredients like eucalyptus and lavender oil provide cooling relief to help calm the body and mind.
Why should I buy CBD balms and skincare products?
Our porous skin is excellent at absorbing CBD. When you apply a CBD skincare product directly, it gets soaked up into your skin layers, muscles, and fat tissue. From there, the CBD ignites a response from the body's endocannabinoid system to help release tension in that targeted area. 
The co-ingredients in CBD hemp balms can also offer supplementary benefits. At Green Gorilla™, we rely on certified organic eucalyptus and lavender oil to provide a calming, cooling sensation that's perfect at the start of your day or before bed.
How do I use Green Gorilla™ skincare products?
Apply our CBD skincare products liberally to sore, achy muscles and joints. Gently massage into the skin. 
As an herbal balm, you can apply it as needed to your chest, neck, and back. Massage our CBD hemp balm to dry or cracked lips throughout the day for the best results.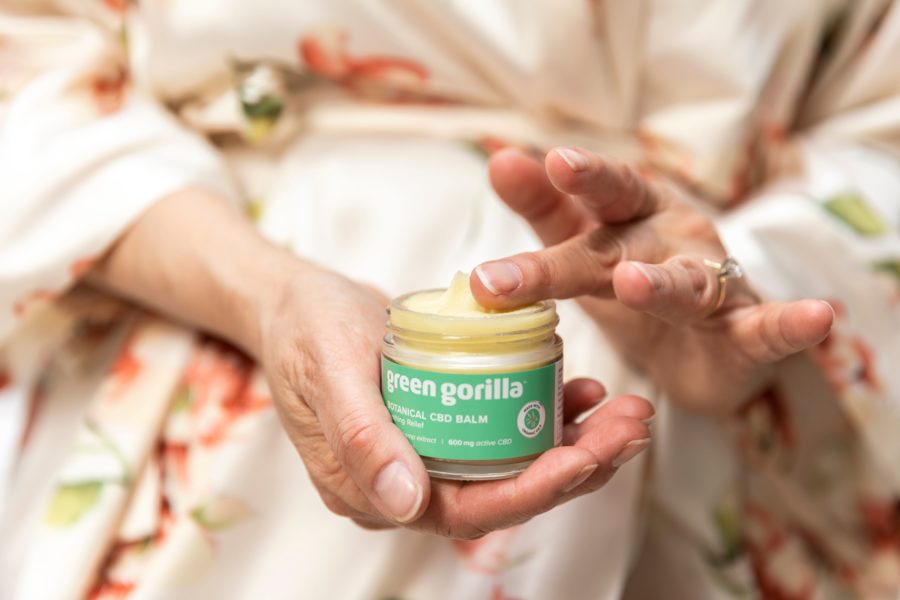 About Green GorillaTM
Our journey began in the early 2000s when we observed the miraculous benefits CBD had on post-injury recovery. Passionate about the untapped potential of the hemp industry, we founded Green Gorilla™ to bring the incredible power of CBD to the world.
We're proud to have produced the very first USDA Certified Organic CBD, and our commitment to sustainable, natural products hasn't changed. You can always trust Green Gorilla™ for reliable, science-backed, organic formulas that make a difference. Experience what our CBD hemp balms can do for you today!