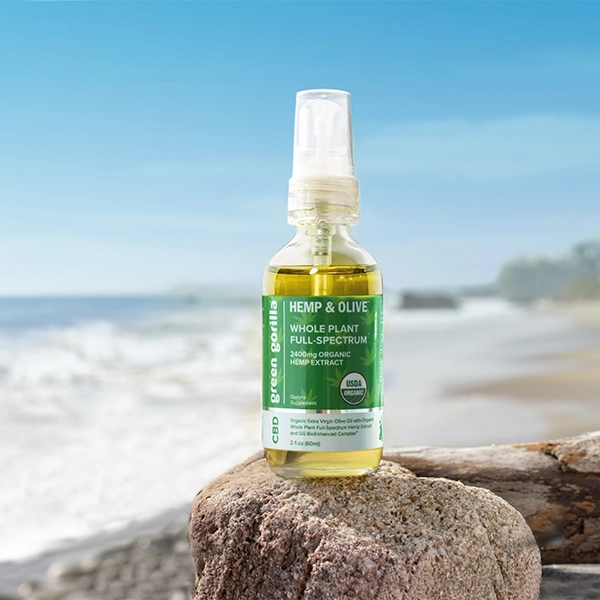 CBD Oil
CBD hemp oil for sale from Green Gorilla Organics™ is recognized for its purity, efficacy, and quality. As the first brand with USDA Certified Organic CBD oil for sale in the country, we hold ourselves to a standard that is unmatched in the industry.
We source sustainably grown hemp from organic farming partners and our owned-and-operated farm, Gorilla FarmCo®, because we want your hemp to be as pure and potent as it was while still in the ground. Enjoy superior farm-to-shelf quality in every product—just as nature intended. For THC-free CBD oil for sale online, check out our pure CBD and broad spectrum oils. Full spectrum CBD oil is also available.
Shop All CBD Hemp Oils for Sale
Shop All CBD Oil
Pure CBD Oil Single Serving Pack 50mg

$

5.99 – or subscribe and get

20% off

Add to Cart

USDA Certified Organic

Toting around the perfect dose of organic CBD has never been more convenient. Polyphenol-rich extra-virgin olive oil makes an excellent carrier for our pure hemp CBD oil, increasing bioavailability for quick absorption. Buy organic CBD oil packs for muscle recovery, overall wellness, and immune system support. This product has 0% THC.

Each single serving contains 2ml of oil with 25mg of active cannabidiol for a total of 50mg CBD.

Certified Organic Pure CBD Oil 450mg

$

27.99 – or subscribe and get

20% off

Add to Cart

Certified Organic

Bask in the Malibu lifestyle with fast-acting CBD isolate oil, for sale by Green Gorilla™. Daily users of CBD believe it helps relax a worried mind, soothe aches, enhance focus, and support their overall health. 

This oil comes packaged in a 1 fl oz/30ml bottle. Like all our oils sold online, this pure CBD oil is formulated using our GG BioEnhanced Complex and simple, wholesome ingredients. Get all the mind-and-body benefits of 450mg active CBD with 0% THC. 

Also available in 600mg (lemon or unflavored), 1500mg, 3000mg & 7500mg

Sale!

Certified Organic Pure CBD Oil 600mg (Lemon)

20% off

– or subscribe and get

Out of Stock

Certified Organic

Pure, THC-free lemon CBD oil made with certified organic ingredients provides quick and effective bioavailability for reliable, everyday recovery support. 

Enjoy supplementing your routine with the natural tangy flavor of lemon!

Each bottle contains 2fl oz. of oil with 4mg of hemp cannabidiol per pump.

Available in 600mg (Unflavored), 1500mg, 3000mg & 7500mg.

Sale!

USDA Certified Organic Full Spectrum CBD Oil for Pets 2400mg

20% off

– or subscribe and get

Out of Stock

USDA Certified Organic

Watch your cat or dog turn into a carefree kitten or puppy again when you share the natural benefits of full spectrum CBD hemp oil for pets! This CBD oil will help calm your furry friend's aches, soothe a nervous mind, and promote overall wellness. Discover the entourage of health benefits that full spectrum CBD oil for dogs and cats has to offer!

Certified Organic Pure CBD Oil 3000mg

$

99.99 – or subscribe and get

20% off

Add to Cart

Certified Organic

Discover fast-absorbing CBD with powerful bioavailability for optimal, all-natural relief.

This formula uses only pure, organic ingredients and 0% THC to help promote a clear, worry-free mind and a strengthened immune system. Try using our certified organic 3000mg CBD oil for recovery, balance, and overall wellness in everyday life.

Certified Organic Pure CBD Oil 7500mg

$

179.99 – or subscribe and get

20% off

Add to Cart

Certified Organic

Our pure 7500mg hemp CBD oil is formulated for fast absorption with natural, carefully sourced ingredients. Use this oil daily to supplement a healthy lifestyle for better sleep, a balanced mind, and powerful immune system support. This pure cannabidiol oil formula contains no THC.

Each bottle contains 2fl oz. of oil with 50mg of hemp cannabidiol extract per pump.

The Benefits of CBD Oil for Sale Online

At Green Gorilla™, we're committed to a standard of quality that is unsurpassed in the industry. Our potent and non-psychoactive CBD is formulated with rich, natural ingredients to maximize its potential.

Sleep, Relax, and Ease Discomfort

Everyone's needs are different. That's why we offer a wide variety of organic CBD hemp oils for sale as well as other CBD products online designed to accommodate your lifestyle and help you reach your health goals. Whether you're looking to use CBD to alleviate aches, calm a worried mind, or achieve restful sleep, we carry something that can help.

Superior Extraction for Maximum Purity

Regardless of the product you choose, all of our oil is extracted using the most effective method in the industry. Our organic, non-GMO ethanol extraction process preserves the properties of the hemp plant for unsurpassed purity and potency. See our test results for yourself!

What Others Are Saying

Medically Reviewed

As the sales of organic CBD oil grow in our country, scientific studies and reviews are taking place to see the real impacts it is having on the endocannabinoid system of our bodies. With all the research done into the wellness benefits of CBD and the USDA Certified Organic CBD at Green Gorilla™, there's nothing standing in the way of improving your health.

Frequently Asked Questions

What does the organic CBD oil taste like?

Our CBD oils are derived from hemp plants. They tend to have an earthy taste. We offer lemon infused CBD hemp oil for sale and berry gummies to help with the taste. You can also add our CBD oils to any food dish to enhance the flavor.

How should I store my CBD oil?

The best way to store your CBD oil to preserve its effectiveness is to keep it in its original packaging. This will keep the oil from being overly exposed to air. You should keep CBD oil at room temperature and avoid exposing it to direct sunlight.

What dosage of CBD should I take?

There is no one-size-fits-all answer to CBD dosing. Generally, start with the smallest dosage and work your way up once a day until you feel comfortable. 

For more detailed instructions, read our CBD dosage guide before purchasing our CBD hemp oil for sale.

What does certified organic mean?

Many CBD manufacturers can claim to be organic without a certification. As a result, their products may contain non-organic toxins, pesticides, and harmful chemicals.

To learn more about what certified organic means and how buying CBD oil for sale online at Green Gorilla™ ensures your safety, click here.

How does CBD oil help me relax?

CBD oil helps add receptors into your endocannabinoid system. This system helps the brain process pain, stress, and anxiety. When the receptors are not replenishing as quickly as needed, you have an imbalance.

CBD hemp oil helps to provide balance to your endocannabinoid system thus allowing you to feel more relaxed in body and mind. These are all natural receptors already found in the body that need more support.

How do I use Green Gorilla™ CBD oil?

Our CBD hemp oils for sale are best used orally. You can choose to place a couple of drops under your tongue for fast absorption. Or, add your CBD oil to your favorite recipes. If you haven't cooked with CBD oil before, check out our delicious healthy recipes.

Can CBD oil without THC get me high?

No. All of our CBD products are derived from US-farmed hemp, which legally must contain less than 0.3% THC. Our pure and broad spectrum organic CBD oils for sale are completely THC-free. Even our full spectrum CBD oil is not psychoactive, and CBD alone has no psychoactive properties.

Is your CBD oil tested?

Yes. All of our certified CBD hemp oil for sale and other CBD products are independently lab tested by third-party facilities for purity and quality assurance.

For complete transparency, all of our third-party lab results are available on our website.

Why Buy Green Gorilla™ CBD Hemp Oil for Sale

Our company's mission has always been to bring safe, healthy, and organic CBD solutions into people's lives. That's why Green Gorilla™ was the very first USDA Certified Organic CBD label in the United States.

Today, we're the leading brand of organic CBD hemp oil for sale. Our high-quality certified CBD products are formulated using only the finest organic ingredients that work exactly as nature intended. Explore our CBD oil for sale online and let it make a difference in your life starting now.
Shopping Cart