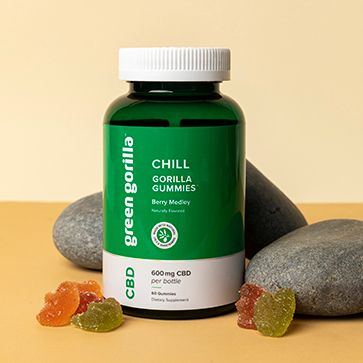 CBD Gummies
Both delicious and effective, Green Gorilla™ organic CBD gummies provide a daily dose of recovery, rest, and overall well-being in a bite-sized snack.
Our three delicious and unique berry flavors are complemented by organic oils, rosemary, turmeric, and polyphenol-rich extra-virgin olive oil to promote the best benefits of CBD. Try our CBD gummies for sale today and you'll agree that wellness has never been tastier.
Find the Highest Quality CBD Gummies
Shop All CBD Gummies
Showing the single result
CBD CHILL Gorilla Gummies™ 600mg

$

59.99 – or subscribe and get

20% off

Add to Cart

$59.99

Supplement with CBD the tasty way! A daily dose of our Certified Organic CBD gummies will help support everyday recovery, mood, rest, and overall wellness. 

Our organic 600 mg CBD gummies are vegan and made with 0% THC. Every batch is third-party tested by an ISO-certified facility. Each gummy contains 10 mg of CBD and the finest ingredients available in nature.
Buy The Best CBD Gummies and Taste the Difference