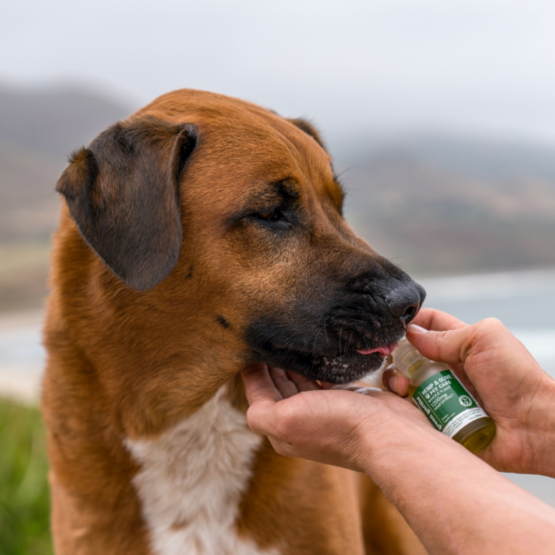 CBD for Pets
Our furry friends have endocannabinoid systems just like us. If your pet is older, achy, or stressed, CBD can help restore balance to their body and mind.
Our goal is to help keep your pets calm and relaxed, as well as support healthy hip and joint functions for the rest of their lives. We offer organic CBD pet balms, CBD care for horses, CBD dog bites, and pet CBD oil for sale. Discover our full collection of specially-formulated pet CBD online.
Shop Organic and Natural Pet CBD Online
Shop All CBD for Pets
Sale!

Organic CBD Balm for Dogs & Pets 300mg

20% off

– or subscribe and get Add to Cart

$49.99

Your pet doesn't have to suffer from aching joints, low energy, or stress all alone. Certified organic CBD hemp balm for dogs from Green Gorilla™ can help soothe your furry friend's muscles and keep them calm throughout the day. Along with pure, THC-free CBD, this soothing balm is infused with a potent blend of plant-based ingredients that protect and nourish your pet's skin. See why so many pet owners are turning to CBD balm for dogs!
Buy CBD Pet Products from a Trusted Organic Source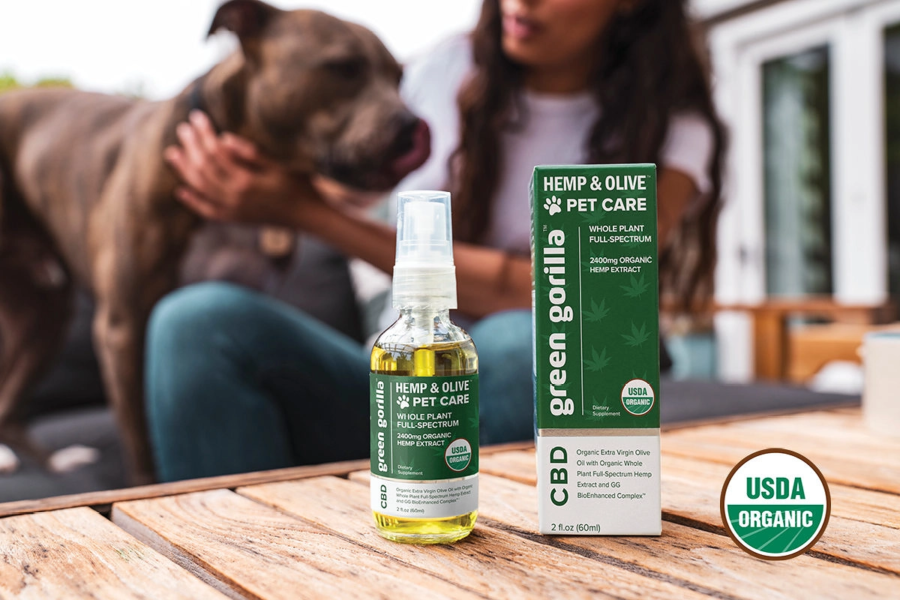 A tense, sore, or aging pet is a sad sight and especially heartbreaking as a pet owner. CBD can help your furry friend start wagging their tail, purring, and playing again by offering soothing relief and comfort throughout the day.
CBD has a body-and-mind effect, meaning it can help contribute to your pet's overall health and wellness in more ways than one. If you want to try a natural remedy for your pet, CBD is your best choice.
Many Ways To Administer
We offer several methods of administering CBD for pets, such as versatile CBD oils, nibs, balms, and even dog treats. No matter the size or taste preferences of your pet, you can buy a CBD pet product that works for them.
A Taste They'll Love
The pet CBD online products at Green Gorilla™ are irresistibly delicious for even the pickiest pooch. Find treats they'll go wild for when you shop today!
FAQ About Our Pet CBD Online
Which CBD product should I give my pet?
CBD nibs are a convenient and tasty place to start. Green Gorilla™ CBD pet nibs are made with freeze-dried lamb and only the cleanest organic co-ingredients. Each pet nib contains approximately 3mg of CBD for easy dosing.
For pickier or larger pets needing higher doses, our pet CBD oils for sale may be a more versatile option. Green Gorilla™ pure CBD oils and whole plant CBD oils come in a variety of concentrations so you can customize your pet's ideal dosage. 
Pure CBD contains 0% THC and provides your pet with reliable support and quick bioavailability for everyday recovery in our highest-strength CBD oil available. 
Our whole plant full spectrum hemp CBD oil helps support your pet's overall well-being with all the natural components of the hemp plant with less than 0.1% THC. Pets love the mild flavor of Green Gorilla™ oil. Plus, they get the added antioxidant health benefits of organic extra-virgin olive oil.
For skin irritations, buy CBD pet products with a topical effect. Green Gorilla™ pet balm offers soothing relief. Each jar contains 300mg of pure, active CBD and powerful botanicals including eucalyptus and lavender.
Is CBD for my pet safe?
Pet owners who trust and love our products say that CBD for pets helps maintain a strong foundation of overall health and wellness. We often hear that our furry friends are experiencing relief from everyday hip and joint discomforts, as well as finding a sense of calm. CBD is an active healing compound that is nontoxic and non-psychoactive to both pets and humans.
Green Gorilla™ uses organic hemp and good manufacturing practices. All of our pet CBD online is third-party lab tested for purity and potency. We source only the cleanest, purest organic ingredients so you never have to worry about the safety of your pets.
How much CBD do I give my pet?
The general rule of thumb when it comes to CBD is "start low and go slow." Please refer to our suggested directions for use on our individual product pages when you buy pet CBD online. We recommend starting with 2–4mg of CBD per 10lbs. The dosage of CBD for pets can be adjusted from there to fit your animal's needs.
How do I give my pet CBD?
It depends on which CBD pet product you buy. CBD oil for pets can be dispensed directly into your pet's mouth for the best bioavailability or drizzled on their food. 
Our CBD pet balm can be used by applying a small amount to your pet's affected area to moisturize and soothe. Gently massage until absorbed. Use as often as needed.
About Green GorillaTM
Our founders first witnessed the incredible capabilities of CBD for pets when they saw its effect on an aging, aching dog. Since then, they've been committed to spreading the word about what natural, organic hemp can do for the body and mind in both animals and humans.
All our products are proudly independently tested by ISO-certified third-party labs for maximum quality and efficacy. We set a high standard for the CBD industry, and we never waver. See the difference organic Green Gorilla™ pet CBD online makes in your beloved companion's life.