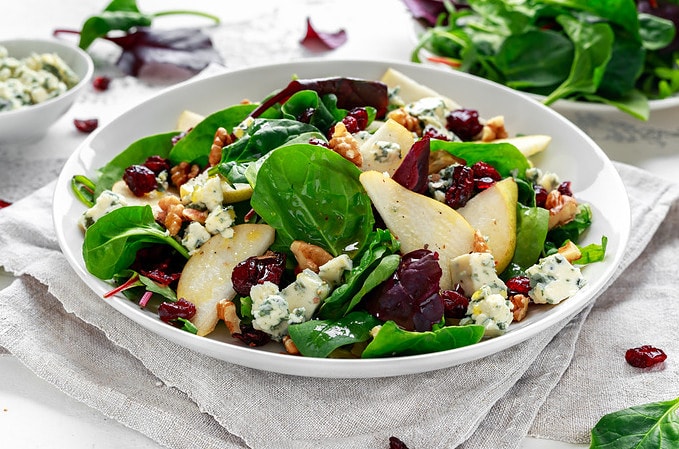 Yield: 4 servings | Total time: 30 mins
By: Jenny Dao
This easy and healthy winter pear salad recipe paired with a delicious CBD salad dressing will freshen up your meals! The cucumber-herb dressing with CBD is delicious, healthy, and calming. That's because our CBD oil extract is infused with certified organic extra-virgin olive oil, which packs this recipe with additional antioxidants and omegas. 
We put great care into crafting all-natural, potent CBD, making it a healthy addition to this spinach, pear, and walnut salad. We're sure that our simple winter pear salad will become a new staple to your healthy diet!
CBD Oil-Infused Winter Pear Salad
Ingredients:
Spinach, Pear, and Walnut Salad
4 butter lettuce leaves, cut or torn into medium pieces
8 endive leaves, cut or torn into small pieces
2.5 cups spinach
4 Bosc pears (brown), thinly sliced
Organic blue cheese (regular or vegan), crumbled
Dried organic cranberries
1.5 cup walnuts, toasted for garnish (see below for directions)
Organic extra-virgin olive oil
Kosher salt, to taste
Freshly ground black pepper, to taste
Cucumber-Herb CBD Salad Dressing 
1 organic cucumber, seedless
6 tbsp sherry vinegar
1/2 cup organic canola oil
12 pumps of Green Gorilla™ 600mg Pure CBD oil
1/2 tsp kosher salt pepper, to taste
5 tbsp cilantro, chopped
Directions for Toasting the Walnuts:
Preheat oven to 350°F. Arrange the walnuts for your winter pear salad on a cookie or silicone sheet in a single layer. Bake 8-10 minutes, checking frequently. Set aside and let cool.
Cucumber-Herb Dressing Directions:
Purée the chopped seedless cucumber, sherry vinegar, Green Gorilla™ 600mg Pure CBD oil, organic canola oil, kosher salt, and pepper to taste in a blender. Then add the cilantro. Pulse to combine until smooth and set aside while you finish your spinach, pear, and walnut salad.
All CBD dressings can be served right away or chilled for later.
Winter Pear Salad Directions:
Combine and gently toss the butter lettuce, spinach, endive, and Bosc pears together. Then, layer the salad with blue cheese crumbles and dried cranberries. Garnish with toasted walnuts. Drizzle the cucumber-herb CBD salad dressing on top as your finishing touch. Enjoy!
Featured Product:
---