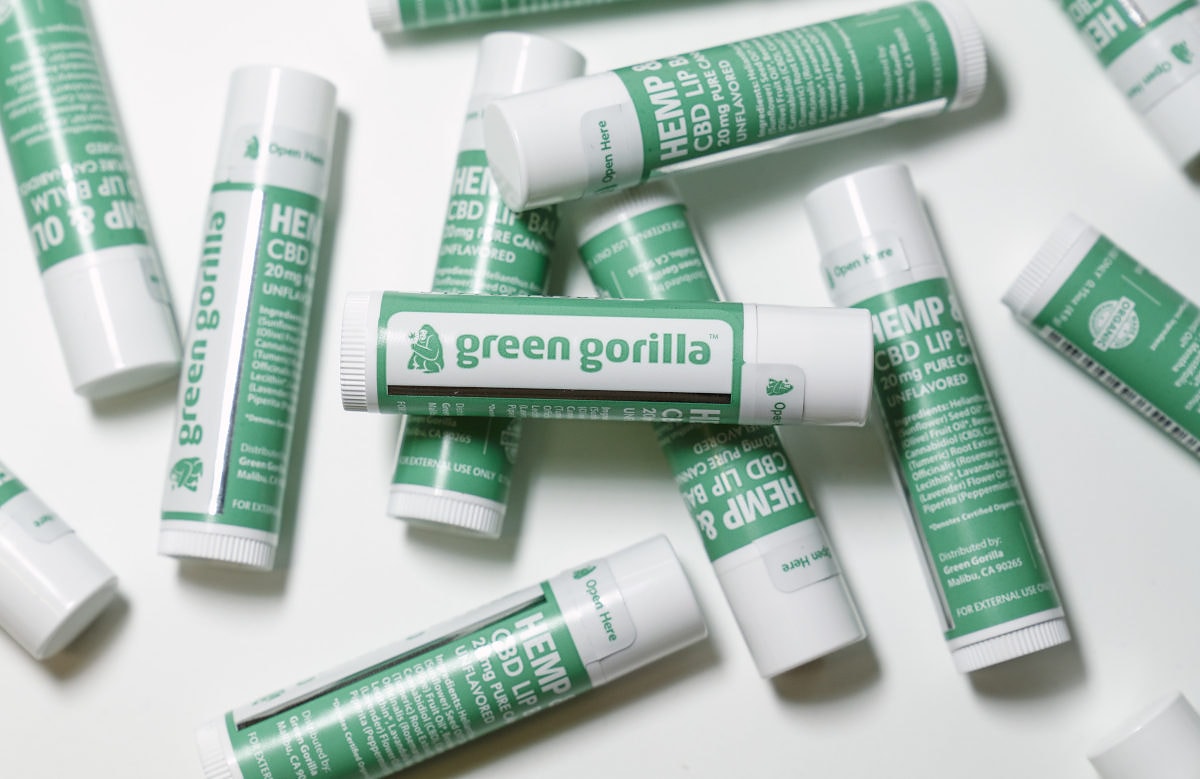 Self-care is almost an obsession these days. Most of us take our supplements, eat a balanced diet, and make sure we get enough exercise. We have a small army of skincare products in our bathrooms— cleansers, exfoliators, masks, and moisturizers for each different body part. And yet, while so many of us have been transitioning into organic foods and skincare products, we've totally left our lips in the dust.
We've compiled some of our favorite tips for keeping lips healthy.
Stay Hydrated
One of the easiest and most important ways to take care of your dry lips, and your whole body, is to stay hydrated. Lips are one of the first places to show signs of dehydration. Aim for at least 64oz of pure, filtered water daily. Your lips will thank you.
Moisturize
With their incredibly thin skin and lack of stratum corneum (the outermost layer that protects our epidermis), the lips are more susceptible to damage from the elements than any other part of our body. Green Gorilla's Hemp & Olive CBD Lip Balm is packed with soothing and nourishing natural oils that are easily absorbed by the skin, are full of essential fatty acids, and contain natural antioxidants which allow for deeper moisturizing while protecting your skin from environmental stressors.
Organic sunflower and olive oils deliver rich moisture while creamy organic beeswax seals it in. Natural botanicals like lavender and peppermint and 20mg of active CBD soothe dryness and irritation and create a calming effect.
Beauty Tip: Use it daily before applying your makeup as a lip base.
Exfoliate
Lips need to be exfoliated regularly too! To Exfoliate lips, you can use a damp washcloth or soft toothbrush to gently remove dry or dead skin. Or try a lip scrub made out of brown sugar and olive oil. This will also boost circulation to help lips look more plump and full of color.
Remove Makeup
If you wear lipstick, always remove it before going to bed. This will allow Your lips to breathe and give them a break from harsh ingredients. Every time you remove your makeup, moisturize and coat your lips with our CBD Lip balm. You'll wake up with beautiful, healthy looking lips.
Check Ingredients
Be mindful of the products you use on your lips and make a habit of checking ingredients. Avoid lip balms that contain hyaluronic acid and glycerin as these ingredients pull moisture out of the skin, especially in a dry environment. Some other ingredients to avoid in your lip balms are parabens, preservatives, fragrance and synthetic colors.
Green Gorilla uses natural ingredients that you DO want to have in your lip balms. When creating a self care routine and bringing in new skincare products to your lifestyle, it is imperative to find products that will fix the problem instead of making it worse. It's a good idea to opt for natural ingredients, especially for products that will go directly onto your most sensitive skin areas.