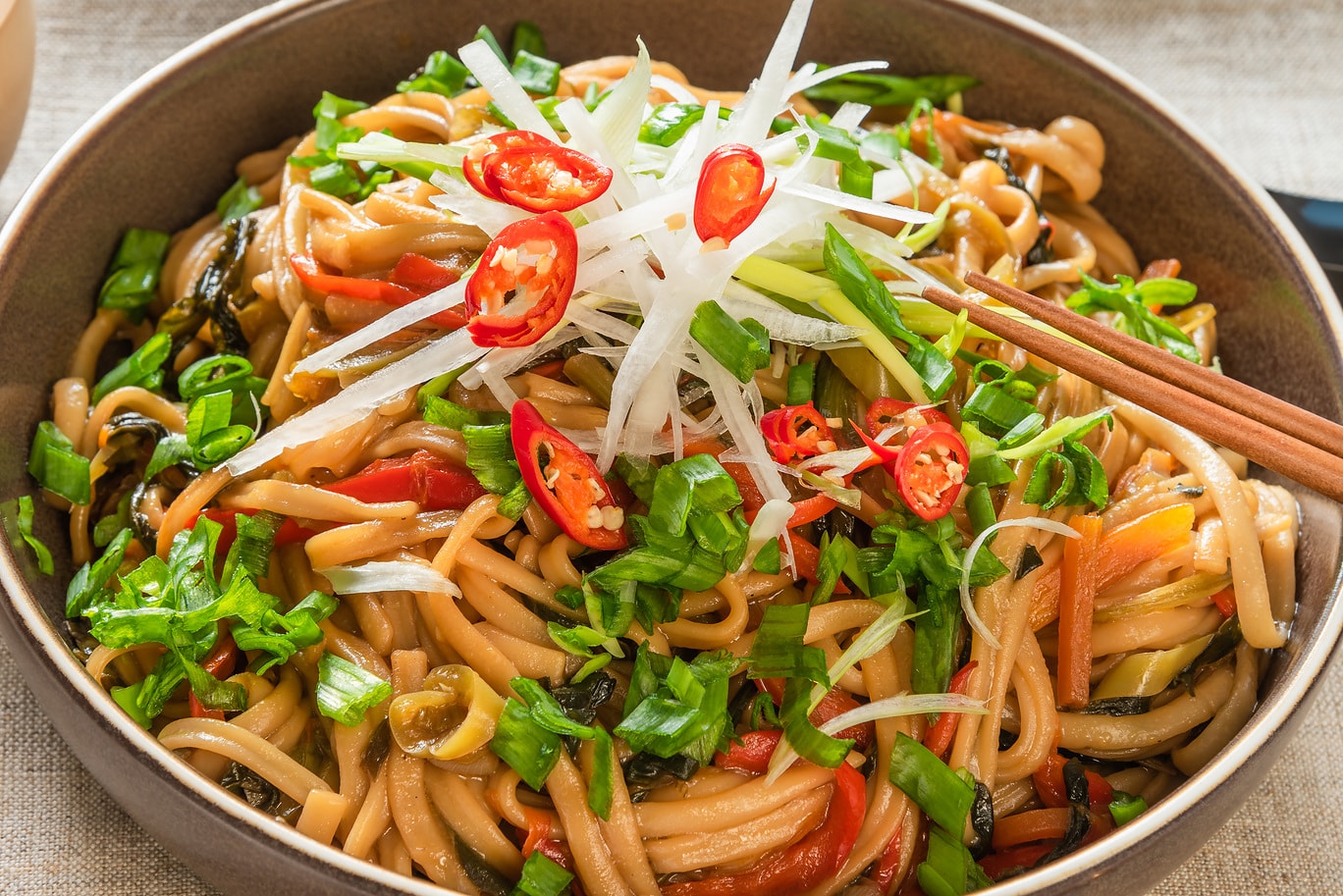 Yield: 4 Servings | Total time: 40 mins
By: Jenny Dao
It's time to try something new!! Update your spring dinner options with today's delicious Veggie Chow Mein Noodles in CBD Infused Spicy Peanut Sauce. This noodle dish is paired with a variety of nutrient packed vegetables and topped with Organic CBD Oil to bring you a sense of calm and help you unwind. Healthy can also be comforting!
FOR VEGGIE CHOW MEIN NOODLES
Ingredients
2 carrots, thinly sliced on mandolin and then cut into thin strips
1/4 pound baby bok choy, remove bottom and cut into 1 inch pieces
3 scallions, bottoms removed and cut into thin pieces
2 1/2 cups Shiitake mushroom, remove stem and slice top in 1/2 inch pieces
2 teaspoons minced garlic
1 1/2 tablespoons thinly sliced ginger
2 1/2 red bell peppers, sliced in 1/2 inch strips
3 cups fresh lo mein, chow mein, egg, pancit, or soba noodles
3 tablespoon organic Canola oil
Daikon, thinly sliced on mandolin and then cut into thin strips
3 red chili pepper, to taste and for garnish
FOR CBD-INFUSED SPICY PEANUT SAUCE
Yield: 2 cups I Total time: 5 mins
Ingredients
1/2 cup organic peanut butter
One 8-ounce can organic coconut milk
1/2 cup agave nectar
1/2 cup fresh lime juice
1/4 cup organic soy sauce
1 1/2 teaspoon garlic powder
16 pumps of Certified Organic Pure CBD Oil 600mg in lemon flavor
Red pepper flakes or Sriracha, to taste
In a blender or food processor, mix the peanut butter, coconut milk, agave nectar, fresh lime juice, soy sauce, garlic powder, and red pepper flakes or Sriracha, to taste. Blend together until the texture is smooth and loose. Place in bowl and set aside.
Method
Heat a wok or large, heavy-bottomed skillet over high heat for a quick stir-fry. Add in the organic Canola oil. Once you see wisps of white smoke, add the garlic and ginger and cook, stirring, until light brown and fragrant, about 20 seconds. Stir in the noodles, bok choy, red bell peppers, and carrots- stirring and tossing, until the vegetables start to soften and turn bright in color, about 2-3 minutes. Add in Shiitake mushrooms and cook and toss for another 2-3 minutes. Stir in the sauce; allow the sauce to coat all the ingredients and start to simmer, about 1 more minute. The sauce will start to bubble into a glaze when complete. Place the hot, steamy noodles in a deep bowl. Let cool a little, then spray 4 pumps per bowl of our Certified Organic Pure CBD Oil 600mg in lemon flavor as your finishing touch. Top with scallions, garnish with Daikon and red chili peppers. Nothing like enjoying good old comforting noodles with CBD-infused care!
FEATURED PRODUCT
---