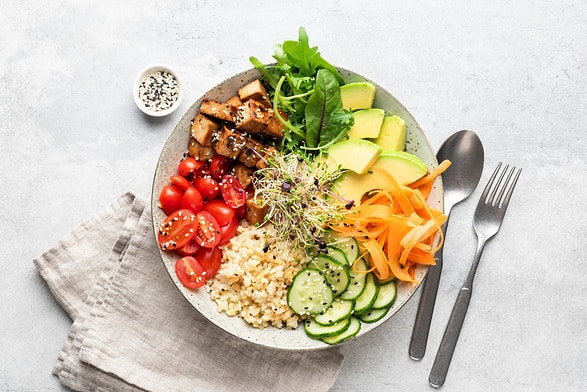 Yield: 4 servings | Total time: 40 mins
By: Jenny Dao
There are many reasons to eat more plants: health benefits, heavenly flavors, and carbon foot print. That being said, changing your way of eating entirely is not easy and going full vegan is not for everyone! What makes this salad stand out is that it has lots of plant-based protein to keep you going and the vegan, creamy CBD infused dressing makes it way more fascinating than your normal lunch.
Ingredients
6 cups of mixed greens
4 avocado, sliced
3 carrots, medium size, sliced in thin strips
3 cucumbers, sliced thin
3 cups cherry tomato
1 alfalfa sprouts, cleaned and cut
2 green onion, sliced thinly for garnish
Mint leaves, garnish
Organic firm tofu, 3 packages, diced
Sesame seeds, garnish
Kosher salt, to taste
Fresh ground pepper, to taste
Creamy Dijon Vegan Dressing Recipe
3 tsp organic dijon mustard
4 tsp organic cider vinegar
2 tsp Kosher salt
Freshly ground black pepper, to taste
12 pumps Green Gorilla 1200mg Full Spectrum CBD oil
1 cup soft tofu
1/2 cup mixed chives and parsley
Pulse in blender- dijon mustard, cider vinegar, Kosher salt, Certified Organic Green Gorilla CBD oil, ground black pepper, and soft tofu in a blender until smooth. Stir in the mixed chopped chives and parsley. Pulse until combined well and set aside.
Prep for Grilled Tofu
Now, you can buy pre-made grilled tofu. Usually in the deli or Vegan section of the store. But for homemade, quick grilled tofu, please follow this recipe:
Heat indoor or outdoor grill to medium-high heat with some extra-virgin olive oil. Cut each package of fresh firm tofu in four fillet pieces. Sprinkle some Kosher salt and place on oiled heated grill. Sheer on each side for 8-10 minutes. Place on paper towel under a plate to absorb the grease. Let cool, then cut in cubes and set aside.
Prep for Bulgar
2 1/2 cups bulgar
1 1/2 cups water
Extra virgin olive oil
Combine bulgur, 1 1/2 cups water, salt, and a drizzle of oil in a saucepan. Bring to a simmer, then cover and cook over low heat until tender, about 12 minutes. Remove from heat; let stand, covered, 10 minutes. Fluff with a fork and set aside.
Composing the salad
Lay out the salad in sections on a large plate or bowl in counter-clockwise
Mixed greens
Sliced avocados
Carrot strips
Sliced cucumbers
Bulgar
Cherry tomatoes
Grilled tofu cubes
Alfalfa sprouts in the middle
Garnish around with thinly sliced green onions, mint leaves, and toasted sesame seeds. Drizzle the Creamy Dijon Vegan dressing all over. Mix as you eat or mix everything together before devouring. Enjoy this favorite love entree salad infused with CBD care.
---