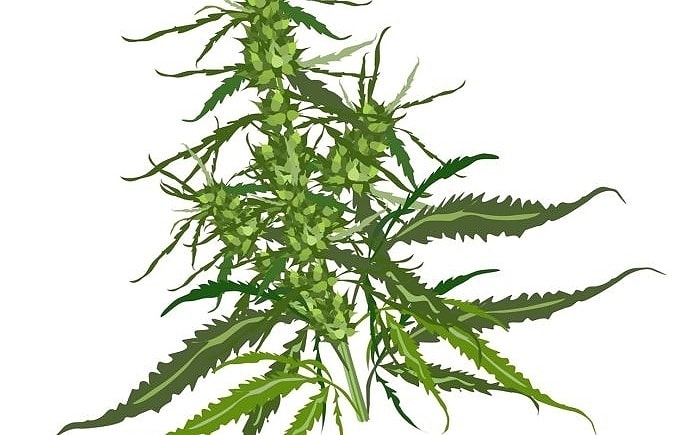 By now you're surely aware of phytocannabinoids or CBD-rich hemp stock oil or other variations of the name these products bear. You may even stock them on your shelves, one of many retailers in the natural products industry who is pioneering a movement of bringing awareness to people's endocannabinoid system (ECS) and chipping away at the stigma associated with phytocannabinoids due to the relationships to cannabis. While the cannabis our industry supports is CBD-rich hemp and not the psychoactive marijuana, the ECS is not about promoting cannabis, but about promoting the proper functioning of the human body. Cannabis just happens to be a piece of the puzzle.
"While the discovery was due to the cannabis plant, this system has little to do with the psychoactive component of marijuana, tetrahydrocannabinol (THC), and more to do with compounds that our body makes as well as factors in food and medicinal plants," explains Michael Murray, ND. "In fact, the occurrence of the ECS in nature predates that of cannabis."
In fact, endogenous cannabinoids or endocannabinoids, which are produced naturally in the body, regulate this system. These endocannabinoids were only discovered in the early 1990's by Israeli researcher Raphael Mechoulam and his colleagues. "After considerable efforts, we identified a novel compound, which was as potent as THC in binding to the receptor," writes Mechoulam. "We named it anandamide, based on the Sanskrit name for happiness and the amide part of the new molecule. Later, we discovered a second, chemically related molecule, 2-arachidonoyl glycerol (2-AG) in the periphery, and a Japanese group found in the brain. Both anandamide and 2-AG are arachidonic acid derivatives" (1).
The endocannabinoid system is important, says John Hicks, MD, author of "The Medical Power of Cannabis" because it is designed to maintain homeostasis in our bodies (2). "It interconnects all systems, organs and tissues and responds to changes in the internal and external environment," he writes. "Its whole purpose is to keep our bodies functioning at their best by adapting to change."
The CB1 and CB2 receptors that cannabinoids attach to exist throughout the central and peripheral nervous system, playing various functions. For example, CB1 receptors exist in high density in the basal ganglia, helping to control unconscious muscle movements as well as planning and starting movements. There are also CB1 receptors in the amygdala, which influence emotions such as fear as well as a high density of receptors in the hippocampus, involved with learning new information and memory integration. CB2 is active in the central nervous system and is present in peripheral tissues and organs, particularly, immune system cells (2).
While the body does produce cannabinoids, the ability to further support the endocannabinoid system can be profoundly beneficial. In a review, researchers George Kunos and Pal Pacher explain that modulation of the endocannabinoid system has "therapeutic potential in almost all diseases affecting humans" (3).
Not only that, but people can also be deficient in endocannabinoids. "A lack of endocannabinoid activity is thought to be present in many debilitating ailments," says Murray. "The medical term for this condition was termed 'clinical endocannabinoid deficiency syndrome' (CEDS) by Ethan Russo, M.D. in 2003.
The research into cannabis and the endocannabinoid system has even culminated in the development of pharmaceutical drugs. Recently, the U.S. Food and Drug Administration (FDA) wrote a report recommending UK-based GW Pharmaceuticals Plc's Epidiolex for approval as a prescription medication (4).
Having access to phytocannabinoids optimizes human health. Emerald Health CEO Jim Springer makes the comparison of natural product retailers selling phytocannabinoid products to selling omega-3 fish oil, and the important role natural practitioners and retailers played in that. "Despite the preponderance of scientific evidence behind the endocannabinoid system, the industry and the professionals that are going to raise awareness are health food stores and alternative/complementary practitioners," he states. "If you go to omega-3 fatty acids back in the day, none of the dietitians or doctors knew about this stuff despite thousands of studies on omega-3s."
As more retailers become involved in selling phytocannabinoid products, increasing demand among consumers and raising the profile of the category, more and more companies will hop on board to further legitimize phytocannabinoids. A great example is Barlean's, based in Ferndale, WA, which only recently entered the phytocannabinoid space launching at Natural Product Expo West 2018. Events like this are significant because brands such as Barlean's offer name recognition and trust among your customers and fellow retailers who may not yet have joined in on the action.
"They may have customers that are going to see the Barlean's brand and be more comfortable looking at CBD now if they haven't purchased CBD in the past," says Ola Lessard, VP consumer marketing & communications for the firm. "Our goal is to bring a lot of education as well, so that will help with retailers that just haven't jumped on it or didn't know enough and I think for those guys, having a company like Barlean's that they know and trust and carry, it will be a way to enter the space if they haven't felt comfortable doing that already."
Clearly, the space is growing and with that growth comes the responsibility to educate your customers about the ECS, phytocannabinoids and to understand where the products stand legally so that you can be a reliable, responsible and informed retailer.
Understanding Phytocannabinoids
CBD. Both hemp and marijuana are in the Cannabis sativa L plant species, but they are two different varieties with the crucial difference between the two being the cannabinoid composition. Tetrahydrocannabinol (THC), the cannabinoid that creates the psychoactive properties,­­ is associated with the ingestion of marijuana. Hemp contains less than 0.03% THC by dry weight, unable to cause intoxication, but rich in other cannabinoids such as cannabidiol (CBD) and plant compounds such as terpenes and flavonoids.
Because cannabis research has identified CBD as a prominent and consequential phytocannabinoid, CBD content has become the point of reference for many people when it comes to these products.
While THC is a CB1 receptor agonist, CBD operates in a different fashion, acting as an inhibitor, blocking the reuptake and breakdown of the endocannabinoid anandamide predominantly through its ability to reduce the enzyme fatty acid amide hydrolase (FAAH) which is responsible for breaking down anandamide. This means that instead of stimulating the CB1 receptor like the endocannabinoid anandamide or the phytocannabinoid THC, CBD prevents the destruction of anandamide, increasing its presence at the receptor sites (2).
One of the central points of contention within the category surrounds CBD being sold as a dietary supplement, because of the CBD-based Epidiolex which is currently under investigation and will likely be approved. According to FDA, "CBD products are excluded from the dietary supplement definition under sections 201(ff)(3)(B)(i) and (ii) of the FD&C Act, respectively. Under those provisions, if a substance (such as THC or CBD) is an active ingredient in a drug product that has been approved under 21 U.S.C. § 355 (section 505 of the FD&C Act), or has been authorized for investigation as a new drug for which substantial clinical investigations have been instituted and for which the existence of such investigations has been made public, then products containing that substance are outside the definition of a dietary supplement."
The Agency adds however, "There is an exception to sections 201(ff)(3)(B)(i) and (ii) if the substance was 'marketed as' a dietary supplement or as a conventional food before the drug was approved or before the new drug investigations were authorized, as applicable."
Although the FDA does not believe this exemption is pertinent to CBD, most industry companies wholeheartedly disagree. The Hemp Industries Association (HIA), an industry trade group, for example, in response to warning letters sent to a string of phytocannabinoid companies for making claims of their products, stated in a press release, "It is the position of the HIA that legal hemp products containing CBD were marketed as foods and dietary supplements long before cannabidiol formulations were submitted to the FDA for testing as a 'new drug.' As such, CBD products are exempt from laws that preclude CBDs from product status as dietary supplements pending 'new drug' approval by the FDA" (7).
It is safe to assume that companies with CBD on their labels operate under this exemption and just to be safe they avoid any claims that may draw attention from FDA. Manufacturers like HempFusion and suppliers like Verdant Oasis avoid CBD content entirely, both because of their belief in hemp as a whole food and out of an abundance of caution.
Sourcing may also differ between companies. A variety of companies source their oil from Europe where there are very high standards and it can be legally imported into the U.S. without a problem. Companies like RAD and the Stanley Brothers, makers of Charlotte's Web, source their hemp domestically from Colorado where marijuana is legal. Other states like Kentucky also grow hemp under the 2014 Farm Bill. For example, while Barlean's Organic Ideal CBD Hemp Oil is sourced from Europe, its Extra Strength Ideal CBD Hemp Oil uses an extract from Kentucky.
Manufacturers that use domestic hemp say that the Farm Bill and the 2015 Consolidated Appropriated Omnibus Act guarantee their right to manufacture and sell its products. Charlotte's Web, for example, in its legal statement explains that "CW Botanicals is a duly registered hemp producer in the state of Colorado, which permits and regulates Farm Bill-authorized agricultural pilot programs in that state. The Colorado Department of Agriculture…has provided written guidance that expressly authorizes CW Botanicals (and its affiliated companies) to 'process, sell or distribute hemp…and…also sell hemp products made from hemp."
The firm's opinion is that this is in line with the language of the Farm Bill, which under Section 7606 states, "Notwithstanding the Controlled Substances Act…or any other Federal Law, an institution of higher education…or a State department of agriculture may grow or cultivate industrial hemp." Following DEA's efforts to prevent the import of hemp seeds, the Kentucky Department of Agriculture and the impending lawsuit, clarification was provided in the 2015 Consolidated Appropriated Omnibus Act which stated, "None of the funds made available in this Act or any other Act may be used…to prohibit the transportation, sale or use of industrial hemp that is grown or cultivated in accordance with subsection 7606 of the Agricultural Act of 2014, within or outside the State in which the industrial hemp is grown or cultivated."
There was some drama last year when the Drug Enforcement Agency (DEA) issued a final rule about extracts derived from cannabis. HIA sued DEA for not using language in the rule that distinguished marijuana from hemp, believing that the agency overstepped its authority (8). Industry companies for their part shrugged off the drama and maintained confidence in their right to sell phytocannabinoid products throughout the United States. On April 30, 2018, the Ninth Circuit Court of Appeals denied HIA's petition to review the "marijuana extract rule," though this decision does not set any precedent and therefore does not classify hemp-derived phytocannabinoid products as controlled substances. In a newsletter Jonathan Miller, general counsel for U.S. Hemp Roundtable, states, "The Ninth Circuit makes clear that the DEA's Rule does not apply to hemp or hemp-derived products developed under state pilot programs authorized by the 2014 Farm Bill. The Court concisely states that the Farm Bill 'contemplates potential conflict between the Controlled Substances Act [CSA] and preempts it.' Accordingly, other hemp products exempted from the CSA – such as non-psychoactive hemp products that were the subject of the 2004 Ninth Circuit decision – should also be exempted from the DEA Rule."
He adds, "In a key legal brief, the DEA admitted that the Rule 'does not apply to any substance that the CSA did not previously control as 'marijuana.' It simply requires that persons handling a subset of the materials defined as 'marijuana' write a different identification number on their administrative paperwork.'"
U.S. hemp farmers and manufacturers of hemp-derived phytocannabinoids have more good news on the horizon. U.S. Senate Majority Leader Mitch McConnell (R-KY) introduced the Hemp Farming Act of 2018 in early April with language that would expressly exclude hemp from the Controlled Substances Act's definition of marijuana, officially legalizing it as an agricultural commodity. As a Kentucky senator, McConnell has a huge incentive to get this passed.
"Hemp has played a foundational role in Kentucky's agricultural heritage, and I believe that it can be an important part of our future," McConnell said in a press conference announcing the legislation, adding that he hoped hemp would be to Kentucky's future what tobacco was in its recent past. U.S. Senate Minority Leader Charles Schumer (D-NY) is officially co-sponsoring it.
Besides reclassifying hemp as an agricultural commodity, according to a press release from the senator's office, "This legislation also will remove the federal barriers in place that have stifled the industry, which will help expand the domestic production of hemp. It will also give hemp researchers the chance to apply for competitive federal grants from the U.S. Department of Agriculture — allowing them to continue their impressive work with the support of federal research dollars."
While the bill has not been passed at the time of this article's publication, McConnell has made moves to attach the language in this bill to a new Farm Bill expected to be brought before Congress in May. Retailers should also try to understand their state laws. Recently, Indiana retailers had their stores raided and phytocannabinoid products confiscated only to have the court dismiss the cases against them and their stock is to be returned (9). This demonstrates a clear lack of understanding about what CBD is and how it should be treated by authorities. Retailers should be prepared to defend their right to sell these products.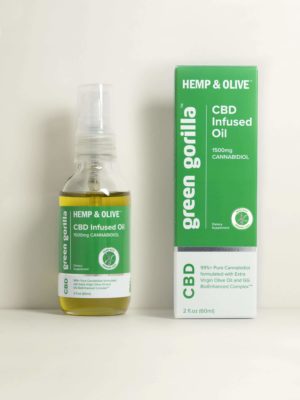 Because of the amount of attention paid to CBD, phytocannabinoid products will often market the cannabinoid in a variety of ways. Some companies opt for using a CBD isolate, which is the singular compound purified into a crystalline powder. This has certain advantages for the manufacturer of the finished product, such as greater versatility in formulation. For example,isolates are odorless and tasteless, and therefore do not give off a smell or taste associated with more traditional tinctures or extracts.
Of course, the narrative surrounding the category has shifted drastically, putting less emphasis on CBD on its own, and more emphasis on the whole plant (ie. CBD and other naturally-occurring phytocannabinoids and terpenes in combination). Steve DeForest, COO of Green Gorilla, based in Los Angeles, CA, acknowledges as much. "We are an isolate company, we've launched a couple of SKUs into the whole plant but really, my dealing and direction has been the isolate, which is what the studies have been done on," says DeForrest. "The purported benefits are really about the CBD, I understand the entourage effect, but I also understand that the CBD is where the emphasis has been to this point."
While some in the industry may object to isolate products, DeForrest really places an emphasis on the purity of his ingredients. "If I have a kilo of product coming in, the first thing I do is send it off for third-party testing before I even touch it," he explains. "That's just a built-in protocol before I even do anything further, before I start the blending process, that I check it out to make sure it meets all the standards, the concentration of the CBD that's in it, the residual solvents, the pesticides, the residual or trace metals, all of those things that make sure they pass muster."
What Green Gorilla does that is unique is use extra virgin olive oil as a carrier oil, which DeForest argues makes his products both more palatable and bioavailable. Not only that, but the olive offers nutrients of its own. "We have an incredibly high polyphenol count on our olive oil and it's also certified organic, very tough to find because getting it to be that high is not as commercially viable for the olive oil people," he states. "A normal olive oil might deliver maybe a hundred polyphenol level, ours is four times that, which is unheard of."
Using olive oil as a carrier is not only innovative but efficacious. As a monounsaturated fatty acid, olive oil on its own virtues can support the endocannabinoid system. "[Olive oil] is particularly effective in increasing the effect of endocannabinoids binding to CB1 receptors," explains Murray. "There are other components of the Mediterranean Diet that also positively impact the ECS, so incorporating principles of this diet is recommended."
Turning our attention toward whole-plant phytocannabinoid products, these too will have varying concentrations of CBD, alongside other phytocannabinoids and terpenes. Once again, CBD becomes a point of reference for consumers who can tell by CBD concentration the strength of the products. This is done by differing levels of extraction. CV Sciences, based in San Diego, CA, is a good example of full spectrum products at different strengths and the different results they can provide.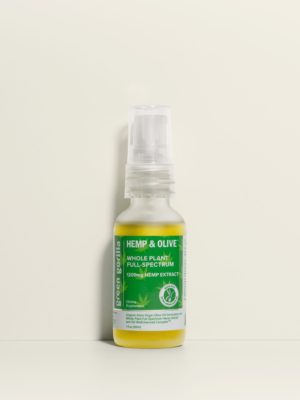 Extracted from industrial hemp sourced from the Netherlands, CV Sciences' red label oil has undergone an initial CO2 extraction into a whole plant raw oil. The oil is "raw" explains Maggie Frank, national educator for the firm, because it provides CBDa instead of CBD. "Essentially just acid-bound CBD, it's unable to cross the blood brain barrier, so the benefits are body-basic," she explains.
Another way this can be achieved is through juicing. For example, a Dutch company called Sana Hemp Juice, manufactures a raw hemp juice rich in CBDa that is frozen minutes after packaging to ensure nutrients and enzymes in the juice remain active. This is attractive to customers who seek out raw, whole food ingredients. Jason Mitchell, president of Roswell, GA-based HempFusion, for one, envisions a future in which cannabis is considered a food and can be purchased in the produce aisle like any vegetable. "I know that sounds totally ridiculous but understand this: juicing has become powerful; things like beets, peppers and carrots and kale and all this stuff," he explains, "but did you know you can actually juice the bud and use the acid forms instead of the decarboxylated forms of cannabinoids? You can use this form and it is host to a whole other set of benefits."
This raw form of acid-bound CBD is great for immune health, but if you want to support stress response, for example, the oil needs to undergo some additional processing called decarboxylation, which basically means the raw oil is heated. "Heating it up breaks it apart from its acid bind," says Frank. "By breaking it apart from its acid, we now have CBD that is able to cross the blood brain barrier."
This produces CV Science's green label oil, which provides the same body support of the acid-bound CBD, but with added neurogenic support because of that ability to pass the blood-brain barrier. But sometimes, an even bigger boost is required, says Frank. "When people are sedentary for very long periods of time, the density of the receptor sites that bind to phytocannabinoids actually can become greatly decreased," she explains. "Because of that, we make our gold formula."
This entails distilling the green label down into the gold label product, which has a higher concentration of CBD. "So ten kilos of our green get distilled down to three kilos of our gold," says Frank. "Through that distillation process we push out a lot of the water soluble plant material, concentrating the amount of fats to phytocannabinoids. By doing so, we increase the probability of the phytocannabinoids, CBD being the most abundant in this case, connecting to difficult receptor site situations."
While CV Sciences and other companies use CBD as a measure of intensity in their products, they do utilize the whole plant and are therefore full spectrum products. This is significant because full spectrum oils have an abundance of complementary phytocannabinoids, terpenes and a greater fatty acid profile. "Most top cannabis researchers are convinced that all of the components of cannabis work together to produce what is called the 'entourage effect,'" explains Murray.
And the marketplace is noticing, says Sonja Bachmeier, co-owner of RAD Extraction, based in Colorado Springs, CO, a supplier of phytocannabinoid-rich hemp oil. "Last year at this time we started selling a lot of full spectrum," she explains. "We've found that for the health benefits, full spectrum works so much better, and the more green oil which still has some of the fats and lipids in it is starting to see a huge demand."
A healthy fatty acid profile is important for proper functioning of the endocannabinoid system. "Critical to the proper functioning of the ECS is having a diet rich in the right type of fat," explains Murray. "Both monounsaturated fats and omega-3 fatty acids are required for proper endocannabinoid signaling. Data indicates that a deficiency of omega-3 fatty acids is particularly harmful to the ECS. Unfortunately, low levels of omega-3 fatty acids in the diet and in body tissues are quite common in North America."
Low omega-3 fatty acid content in the body and the health consequences are something we're all familiar with in this industry. The fact it affects the endocannabinoid system negatively, too, is a great jumping off point to introducing customers to the endocannabinoid system. Encourage them to take omega-3 fatty acid supplements not just to reduce the risk of cardiovascular disease but also to support the endocannabinoid system. Then you can ease them into understanding how phytocannabinoids can directly support the endocannabinoid system. Novelty is both helpful and detrimental when it comes to hemp-derived phytocannabinoid products. Sometimes, the best method is to give customers something familiar to wrap their minds around so they approach something new from a place of understanding.
Full spectrum products have also received some validation from the research community. An Israeli study published in Pharmacology and Pharmacy in 2015, compared the dose response on paw inflammation in rats given either a purified CBD extract compared to a whole-plant CBD extract enriched with other phytocannabinoids such as 1.1% of cannabichromene (CBC), 0.2% cannabigerol (CBG) and traces of cannabinol (CBN) and cannabidivarin (CBDV). However, unlike products in the natural products industry, this extract also contained 1.1% THC (6).
Researchers noted that in this study and previous studies, pure CBD had a bell shaped dose response, meaning that healing was only observed in a limited dose range without any beneficial effect at very low or very high doses. This, however, was not observed in rats given the enriched extract, where researchers observed "a correlative dose-response was observed with increased inhibition of inflammation upon increased doses of the extract."
While more research is necessary in this field, these findings are welcome news for full spectrum phytocannabinoid manufacturers and users. Verdant Oasis, distributed by Barrington Nutritionals, based in Harrison, NY, which supplies phytocannabinoid-rich hemp stock oil to a number of manufacturers in the industry, is playing a major part in shifting the narrative away from CBD into full spectrum. A vertically integrated company that farms, harvests and CO2 extracts its own non-GMO hemp in Europe, Verdant Oasis has a great deal of flexibility in its ability to provide different concentrations. However, Carl Germano, CNS, CND, VP of Verdant Oasis, explains how he believes too much importance is placed on concentration when considering a product's efficacy.
"The concentration of phytocannabinoids, including CBD in the oil, is completely irrelevant," he explains. "What is important is what the client wants to deliver in a given dosage format. For example, if you want to provide 10 mg of phytocannabinoids per dose, one can use a 5%, 10%, 20%, 40% etc. concentration material. So the point is, the dosage format (oil, softgel, capsule, etc.) and the total mgs active to deliver will dictate the best concentration that is needed. For example, companies seeking to place hemp oil in softgels may prefer a higher concentration material given the volume limitations in such a format. On the other hand, lower concentrations are more appropriate for liquid applications where taste concerns must be considered."
So, while CBD content is an important touchstone, it's certainly not the whole story. Some companies are even moving away entirely from marketing their product with CBD anywhere on the label, HempFusion being one of them. "HempFusion was never a CBD company," says Mitchell. "It was a hemp revolution-inspired company, but it is more about accessing the brilliance of all these nutrients in one centrally located place."
The only reference to cannabis on their label is in the name HempFusion and even terminology like "phytocannabinoids" has been rebranded as "Phytocomplex." Mitchell points out that even "phytocannabinoids" is narrow. "[It] limits the plant to one category of compound, to one lane of nutrients, when in fact there are terpenes, co-factors, enzymes, chlorophyll that cumulatively work together in a way we don't yet understand," he says.
Verdant Oasis offers custom blends that incorporate phytocannabinoids from other plants. "We process specialized blends incorporating complementary phytocannabinoids to support the body's Endocannabinoid System. For example, we also process clove and pepper for its phytocannabinoid called beta caryophyllene as a complement to the naturally occurring phytocannabinoids in hemp," Germano explains. "Unlike CBD which does not attach to the endocannabinoid receptors (CB1 & CB2) in the body, beta-caryophyllene is a potent CB2 agonist. So, to get full CB1 and CB2 support, most of our clients are looking into custom blends that include a more complete phytocannabinoid and terpene entourage effect. The data is clear that the whole family of phytocannabinoids are important to the body — not just one single one."
This brings up an important point, that cannabis is not the only source of phytocannabinoids. And one company has really jumped on this opportunity; Emerald Health Bioceuticals. The irony is that its parent company is one of the largest cannabis interests in Canada. While squeamish about getting into the phytocannabinoid-rich hemp oil trade in the U.S., they fortuitously had another opportunity when acquiring Viva Cell in S, one of the world's leading phytocannabinoid research centers.
Non-Cannabis Phytocannabinoids
Clove oil (concentrated for b-caryophyllene) —Clove oil contains several analgesic ingredients, but the one most researched for its effects on the ECS is b-­­caryophyllene. This compound is also found in many other herbs and spices. It is able to bind with great affinity to CB2 receptors and that is thought to be one of its primary mechanisms in its ability to reduce .
Echinacea purpurea — Alkylamides from the Echinacea species bind to CB2 with great affinity and also assist CB2 in modulating the immune system. They also prolong the effects of anandamide.
Zanthoxylum or Sichuan pepper — Contains alkylamides that display very strong affinity to CB1 and CB2. These compounds also influence what are known as transient receptor potential channels that are involved in the electrical control of cells and work closely with the ECS. The two systems overlap and are intricately interwoven in helping cells communicate with one another.
Peony — Contains paeoniflorin, which exerts a number of benefits in close harmony with endocannabinoids' influence on cellular function, including influencing transient receptor potential channels that are involved in the electrical control of cells.
Ginger — Exerts a multitude of health benefits some of which are mediated by the ECS. Ginger's volatile components also influence transient receptor potential channels.
Magnolia — Contains magnolol, which is a very potent CB1 and CB2 receptor agonist. What this means is that it is able to bind to both types of CB receptors. Magnolia extracts exert significant effects in promoting a relaxed mental state.
Courtesy of Michael Murray, N.D.
It stands to reason that since every living organism except insects has an endocannabinoid system and the system predates cannabis, there must be other viable sources of phytocannabinoids. To determine what non-cannabis ingredients would best affect the endocannabinoid system, Michael Murray and Giovanni Appendino, one of the world's leading authorities on phytocannabinoids, in partnership with Viva Cell, conducted a meta-analysis. "We were able to cull from 4,000 studies to identify the six herbs and botanicals that most notably impact the human endocannabinoid system," says Springer. Their six herbs and botanicals are echinacea and peony which contain alkamides, clove, which contains beta-caryophyllene, ginger for their gingerols, magnolia for its magnolol and honokiol content, compounds that bind to CB1 and CB2 receptors, and finally Zanthoxylum peppers, otherwise known as Szechuan peppers. (See sidebar on Non-Cannabis Phytocannabinoids for more detail.)
"So, some of these compounds you may say are relatively common, but the isolates that we're using from these compounds are not quite so common," Springer explains. "Once we identified them in our meta-analysis the hard part was finding a company to isolate, concentrate and standardize for the active constituent that was demonstrated in the study."
With this combination of ingredients, Emerald seeks to accomplish what cannabis-based phytocannabinoids such as CBD do, namely influence endocannabinoid activity in the CB1 and CB2 receptors through a direct agonist as well as inhibition of enzymes that degrade endocannabinoids. Additionally, says Springer, "We want to support the productions of endocannabinoid receptor sites. A little known fact is that when you start to expose your body to outside sources of phytocannabinoids, your body's reaction to that is to create more receptor sites."
Keeping It All Straight
Isolate, full spectrum or non-cannabis, there can be something to like from them all. You may love giving your customers all those options or you may have preference for one over another, and that's fine. Continue to educate yourself and don't be afraid to ask your trade organization or other professionals for advice. While many are confident about selling phytocannabinoids, if you have continued reservations, it's completely understandable. The category will continue to grow, the law will catch up to the modern world and sooner or later, you'll find something you're comfortable putting on your shelves.