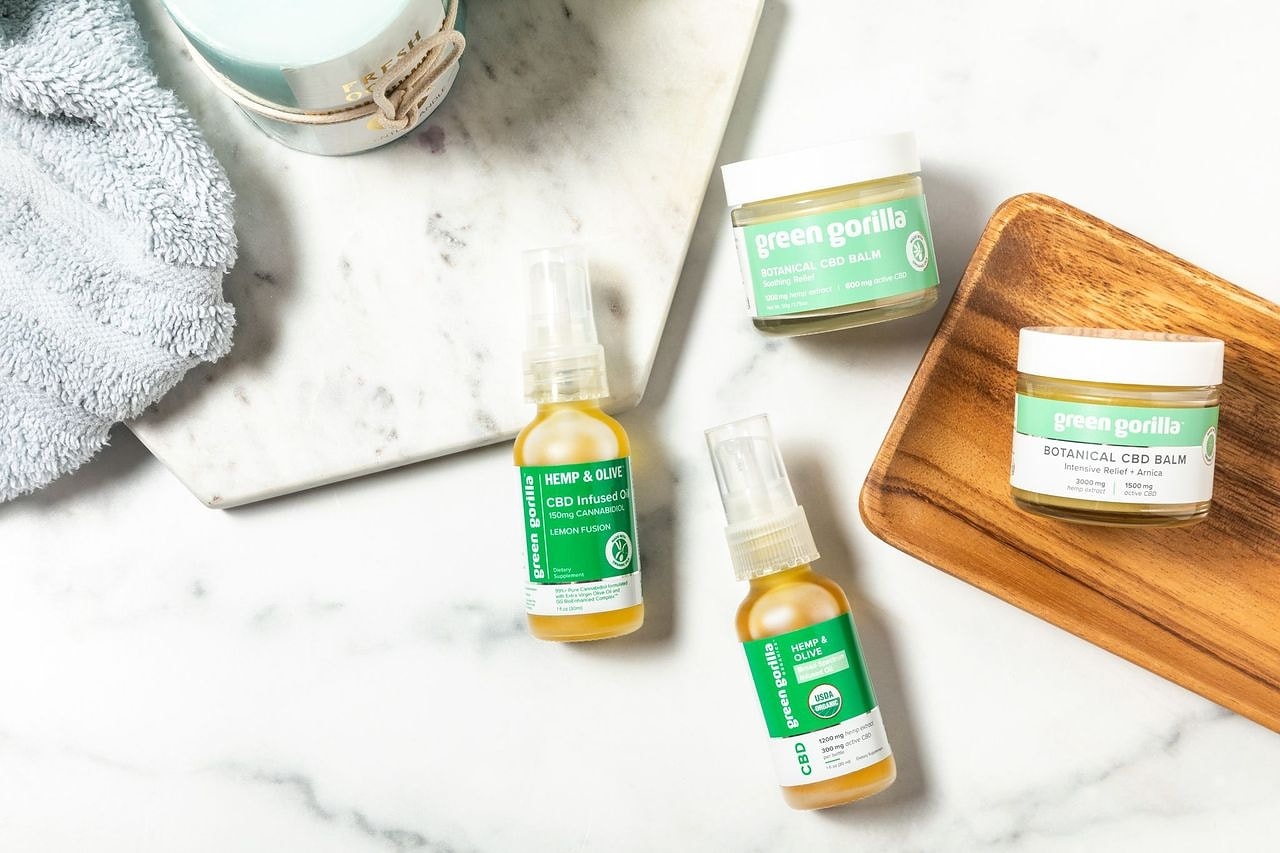 MALIBU, CA, Jan 15, 2021– Green Gorilla™, the industry leader of certified organic hemp cannabidiol (CBD) products, is celebrating a year of stellar media wins across top-tier business, CBD, wellness, entertainment and lifestyle publications. In 2020, the brand earned an impressive 482M+ media impressions with $8M in ad value ROI. Placements in TIME, Los Angeles Times, Newsweek and Ad Age, among others, touted Green Gorilla's impressive roster of products, as well as the brand's leading innovative and ethical business practices. Green Gorilla's 25+ farm-to-shelf USDA-certified organic products including the Organic CBD Oils, Organic CBD Gorilla Gummies, CBD Face Crème, CBD Body Lotion and CBD Capsules have become instant media favorites.
See what the world's most trusted media sources had to say about Green Gorilla:
"A truly relaxing experience." TIME
"Green Gorilla puts a lot into its process—and the results have placed the brand as a top competitor for 2021." Ad Age
"A well-respected company in CBD, Green Gorilla doesn't disappoint with their organic Gorilla Gummies." Maxim
"This Malibu-based lifestyle brand's USDA-certified organic products are from sustainable organic-farms." Newsweek
"A cruelty-free, mask-friendly product that provides a summer beauty refresh." Los Angeles Times
"One of the few brands to use heart-healthy, delicious olive oil as their carrier for CBD." Venture Beat
"the only certified organic CBD brand on the market and my go-to for muscle recovery." Jesse Metcalfe x HELLO! Magazine
"Former film producer built 1,474 acre hemp farm that earns USDA organic certification." Phoenix Business Journal
"Green Gorilla prioritizes the importance of transparency with their consumers, and pioneering the certified-organic hemp space." Cannabis & Tech Today
"Green Gorilla is not only a company with high-quality, organic, 0 percent THC, they are also a fantastic company from an environmental standpoint. They grow their hemp using sustainable practices, meaning no use of chemical fertilizers or pesticides and the use of a natural aquifer to save water. Plus, their soil is rich in nutrients to help preserve water as well." Observer
"Green Gorilla prides itself on using a special formula that allows for quick absorption of CBD, and it sources its hemp from farms that grow it organically. Reviewers on its website show that people have seen decrease and mobility increase in their dogs." Reader's Digest
"Meditation or yoga can help bring a sense of calm, even if only for a few minutes every day. I would also suggest our Green Gorilla CBD oils, CBD Gummies, or CBD Capsules.
Studies show that CBD is an effective natural treatment when you are feeling anxious." Authority Magazine & Thrive Global
"An amazing line of five vegan and organic CBD capsules with herbal ingredients to support immune health, improve sleep, manage stress, and provide relief to exercise-induced soreness or discomfort." Medium
"The only CBD company to be USDA Organic certified, complete with gift sets packaged in a gorgeous green box." The Advocate
"If you haven't tried CBD for your pets yet, Green Gorilla is a great place to start. From farm-to-shelf, they have designed the world's most trusted USDA certified organic CBD oil products." The Pet Gazette
"Gorilla FarmCo utilizes sustainable organic agricultural practices benefitting the environment by maintaining soil quality without the use of chemical fertilizers, reducing soil degradation and erosion through cover crops and saving water by increasing soil organic matter." Pet Age
About Green Gorilla™:
Established in 2013 in Malibu, California, Green Gorilla™ is the industry leader in premium USDA Certified Organic Hemp CBD products from farm to shelf. The company's organic hemp CBD products include supplements, skincare, pet and equine lines. Green Gorilla™ products are currently sold in more than 5,000 retailers across the U.S. and are also available online. Global expansion plans are currently underway in South America, Europe, Scandinavia and Asia. The company's vertically integrated hemp farming operation, Gorilla FarmCo owns and operates 1,474 acre USDA certified organic hemp farm, making it one of the largest certified organic farm-to-shelf operations. Founders Sir Steven Saxton and Katherine Guevara Saxton were the first entrepreneurs to launch a USDA certified organic CBD brand.
Green Gorilla:https://ilovegreengorilla.com.
Gorilla FarmCo: https://gorillafarmco.com.
FORWARD-LOOKING STATEMENTS: This press release may contain certain forward-looking statements within the meaning of Section 27A of the Securities Act of 1933, as amended, and Section 21E of the Securities Exchange Act of 1934, as amended. Readers are cautioned that all forward-looking statements contained herein are reasonable, any assumption could be inaccurate and therefore, there can be no assurance that the forward-looking statements included in this press release will prove to be accurate. In light of the significant uncertainties inherent in the forward-looking statements included herein, the inclusion should not be regarded as a representation by the Company or any other person that the objectives and plans of the Company will be achieved.