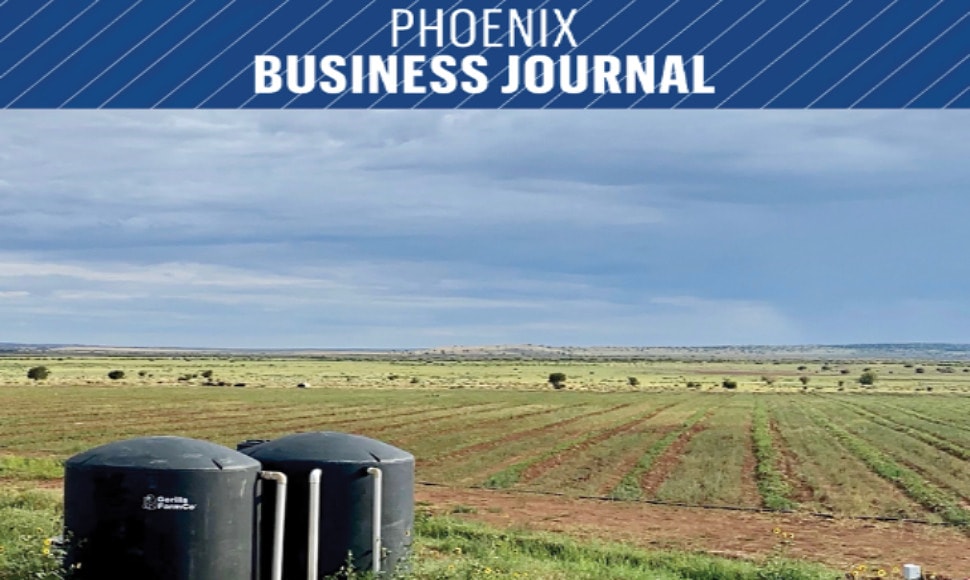 By Angela Gonzales – Senior Reporter, Phoenix Business Journal
Malibu, California- based Green Gorilla, which paid nearly $1 million for nearly 1,500 acres in Arizona in May 2019, has received USDA organic certification for its hemp operations.
The 1,474-acre farm — near St. John's in Apache County, more than 200 miles northeast of Phoenix, near the New Mexico border — was certified through a third-party organic certifying body, Oregon Tilth.
Green Gorilla's Gorilla FarmCo already has as conditional use permit, nursery license and hemp growing license for the farm, said Steven Saxton, CEO and founder of Green Gorilla.
"We have about 1,000 plantable acres," he said. "It will be a multimillion dollar operation once fully developed."
Before founding Green Gorilla in 2013, Saxton was chairman and CEO of Hollywood Studios, where he was executive producer or a co-financer for 47 films, including "Lone Survivor," "The Kids Are All Right," "Who Framed Roger Rabbit?" and "Honey, I Shrunk the Kids."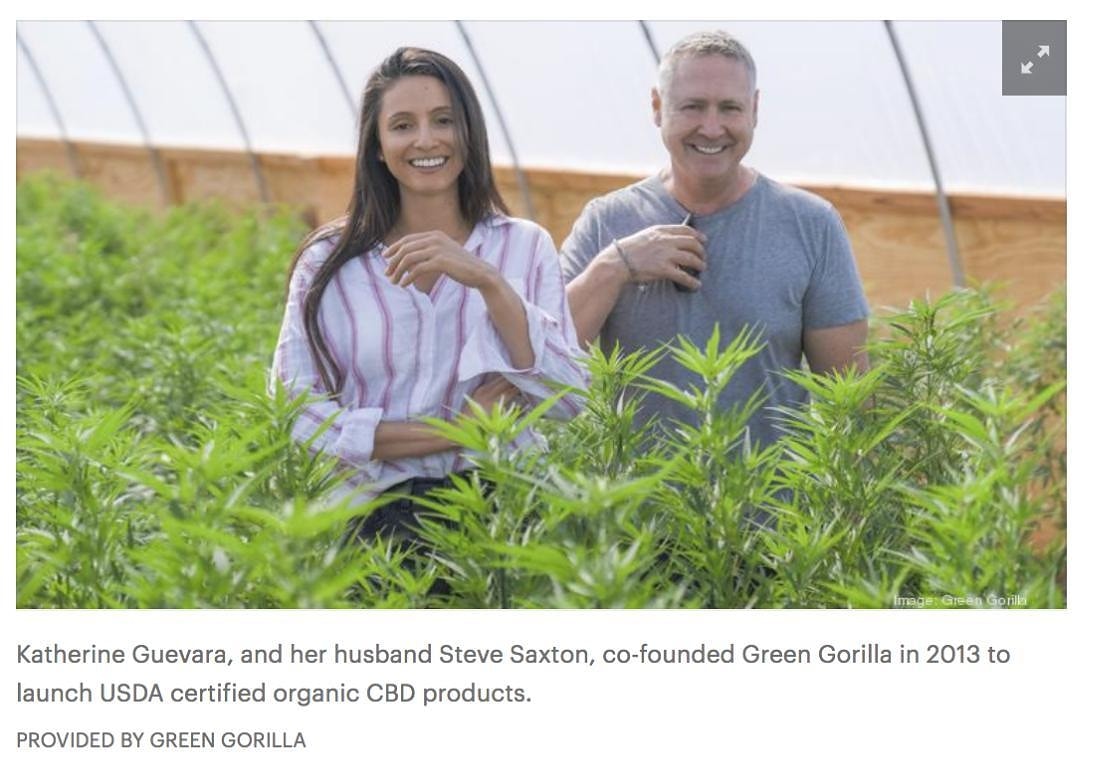 Saxton said he's also considering building a 100-acre solar farm with a new type of wind turbine, which would be a $100 million capital investment.
"Maybe I'll reach out to Warren Buffet and get him to help out," Saxton said. "He's big on solar."
Demitri Downing, founder of Marijuana Industry Trade Association, said the legalization of marijuana has generated excitement in the CBD space as well.
"The growth of cannabis, in general, as a wellness option for consumers and patients is always good news for Arizonans," Downing said. "We look forward to welcoming them into the marketplace. More competition leads to better products and lower prices."
Of the company's 50 employees, a handful are working at the Arizona farm. Saxton said he plans to hire another handful as he ramps up production.
"Next year we'll need additional staff while harvesting," Saxton said.
Gorilla FarmCo built hoop houses on the farm to cultivate genetics, providing year-round growing opportunities and drying hemp biomass with the use of heat and indoor lights powered by solar energy.
"Farming organically and sustainably not only makes our farm-grown organic hemp a premium, but it also helps our company be environmentally friendly," Saxton said.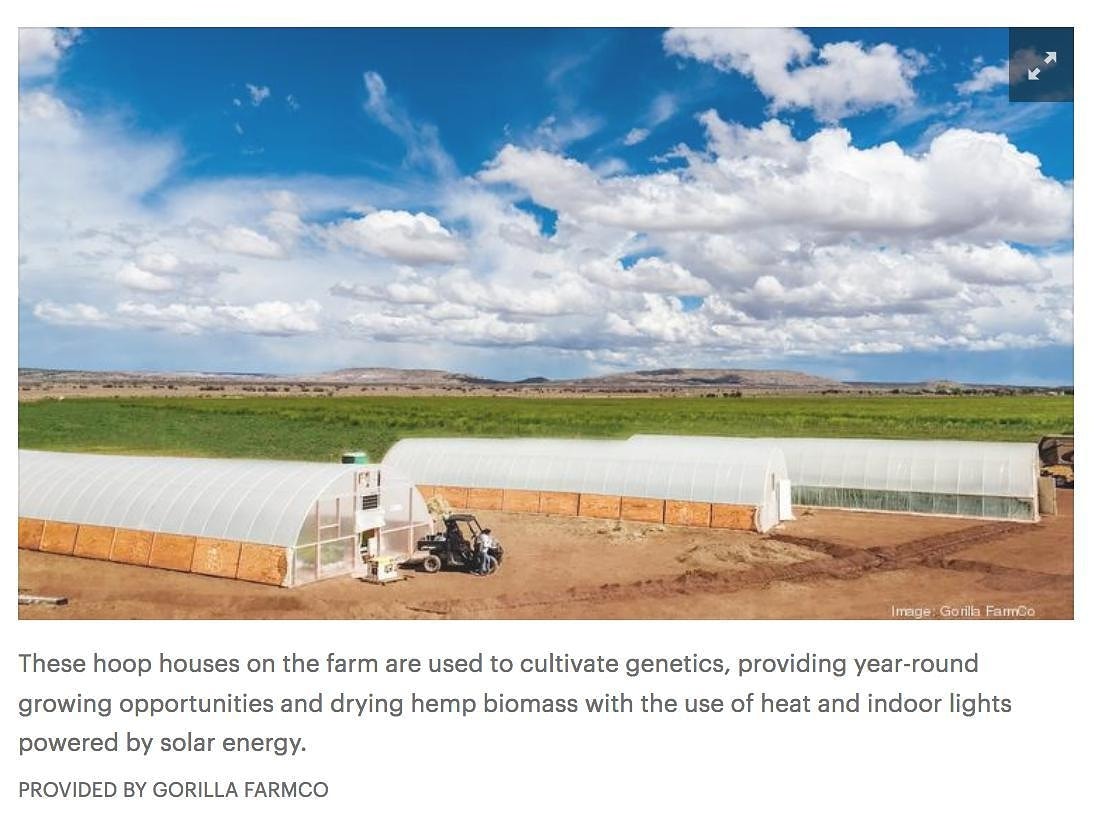 Green Gorilla's organic hemp CBD products are sold across the country at 5,000 retailers, on its web site as well as in Costa Rica.
"We are in the process of launching in Europe and we have deals in the works in India and Hong Kong," he said. "Covid slowed our international release but we're in process."
About Green Gorilla™:
Established in 2013 in Malibu, California, Green Gorilla™ is the industry leader in premium USDA Certified Organic Hemp CBD products from farm to shelf. The company's organic hemp CBD products include supplements, skincare, pet and equine lines. Green Gorilla™ products are currently sold in more than 5,000 retailers across the U.S. and are also available online. Global expansion plans are currently underway in South America, Europe, Scandinavia and Asia. The company's vertically integrated hemp farming operation, Gorilla FarmCo owns and operates 1,474 acre USDA certified organic hemp farm, making it one of the largest certified organic farm-to-shelf operations. Founders Sir Steven Saxton and Katherine Guevara Saxton were the first entrepreneurs to launch a USDA certified organic CBD brand.
Green Gorilla:https://ilovegreengorilla.com.
Gorilla FarmCo: https://gorillafarmco.com.
FORWARD-LOOKING STATEMENTS: This press release may contain certain forward-looking statements within the meaning of Section 27A of the Securities Act of 1933, as amended, and Section 21E of the Securities Exchange Act of 1934, as amended. Readers are cautioned that all forward-looking statements contained herein are reasonable, any assumption could be inaccurate and therefore, there can be no assurance that the forward-looking statements included in this press release will prove to be accurate. In light of the significant uncertainties inherent in the forward-looking statements included herein, the inclusion should not be regarded as a representation by the Company or any other person that the objectives and plans of the Company will be achieved.