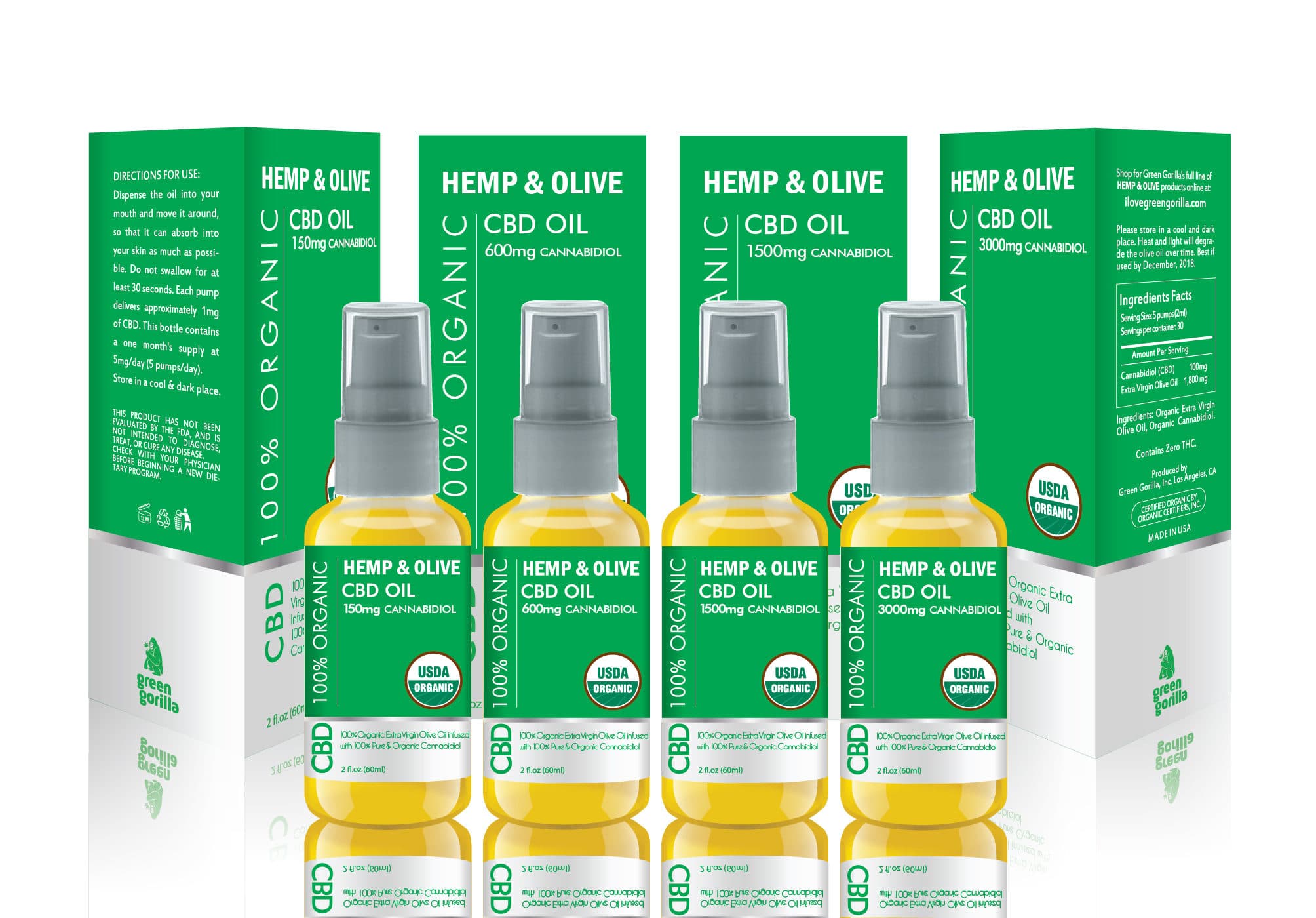 Green Gorilla Co-Founders and Co-CEO's Steven Saxton and Philip Asquith have announced the launch of new 1500mg and 3000mg Hemp and Olive CBD products. Discounted pre-orders are available online now at the company's website and will ship in July. Hemp & Olive's products are all 100%: Organic, Plant-Based, Non-GMO, Vegan, Paleo, Kosher, Macrobiotic, Gluten-Free & Sugar-Free.
Green Gorilla's flagship line, Hemp & Olive, delivers the world's highest quality CBD infused oils, cosmetics, and pet care products. All products in the Hemp & Olive line are made with 100% Pure CBD, extracted from organically cultivated non-gmo hemp, and purified to its crystalline state. Green Gorilla's CBD is then infused into 100% organic Extra Virgin Olive Oil, sourced from award winning California producer, Ojai Olive Oil. Pure CBD extracted from hemp is the healthiest, safest and highest quality Cannabidiol available. Extra Virgin Olive Oil is the healthiest, safest, and most effective way to deliver CBD to the body. Beyond being the healthiest option, olive oil also has synergistic effects in combination with CBD, and is also able to deliver the CBD to the parts of the body that need it most.
Hemp & Olive's CBD Oil is the core of Green Gorilla's CBD line, and the most versatile option. It is available in 150mg, 600mg, 1,500mg and 3,000mg bottles. Each concentration is available in an unflavored version, as well as in options lightly flavored with lemon or peppermint organic essential oils. All Green Gorilla products contain Zero THC, have no psychoactive properties whatsoever, and are produced and sold in compliance with US federal law. Once fully launched, Green Gorilla's Hemp & Olive' line will be the most comprehensive and best formulated CBD product line in the world, including over 100 unique products for people and pets. Shop Here: 'Hemp & Olive' CBD Products.
Green Gorilla is committed to sustainably and ethically providing people with tools to live healthier and happier lives. The company is currently focused on utilizing hemp to create myriad products to that end. Hemp is an incredible resource, and the company sees great potential here for both helping people, and also helping to preserve and protect the planet. At Green Gorilla we love what we do, we love helping people, and we have gone to great lengths to create the very highest quality CBD products possible. We hope that you will find our Hemp & Olive products as amazing as we do, and that they bring you happiness and health.
Any product related statements have not been evaluated by the FDA, and our products are not intended to diagnose, treat, or cure any disease. Always consult your own physician before beginning a new dietary supplement program. All Green Gorilla products contain zero THC, and are produced and sold in compliance with US federal law.
About Green Gorilla: Green Gorilla is building an international brand in the hemp and cannabis industry. Our mission is to provide sustainable and ethical goods and services to a broad range of customers, with a primary focus on health and wellness. Green Gorilla prides itself on being a sustainable and ethical company, utilizing hemp to provide people with tools to live healthier and happier lives, while also preserving and protecting our planet. While federal policy is developing, the Company will operate only in areas that are unequivocally federally legal, and is initially focused entirely on hemp based products. The company is building a multitude of market leading product lines centered around hemp and the picks and shovels of the cannabis industry, as well as a state of the art web portal addressing a wide range of related goods, services, online interaction, and education. Green Gorilla was established in 2013 by founders Philip J.P. Asquith and Sir Steven Saxton.
About the Company Principals: Prior to his new role as Co-Founder & Co-CEO of Green Gorilla, Inc., Philip J.P. Asquith co-founded and managed Green Monkey, a health and wellness company operating a chain of studios and wellness programs in southern Florida. Mr. Asquith also founded and managed Green Capital Investments, Inc., a structured finance group operating in the renewable energy space. GCI's projects included wind-energy farms, biomass-energy facilities, and municipal waste-energy facilities. Mr. Asquith is 39 years old, and lives in Ojai, CA, on a certified organic permaculture ranch where for generations his family has produced an award winning extra virgin olive oils under Ojai Olive Oil, Inc. Ojai Olive Oil has been recognized as one of the world's top olive oil producers countless times, and Mr. Asquith awarded the title of "Master Miller".
With over 30 years of experience, Sir Steven Saxton is a successful serial entrepreneur and film executive with credits that include Lone Survivor and The Kids are Alright. He is a highly regarded expert in corporate structuring, private equity, public companies, corporate refinancing, and capital raising for startups. Mr. Saxton has been the lead negotiator for numerous partnerships, mergers, acquisitions, IPOs, and rollups for private and public companies. Mr. Saxton was a former investment banker and stock and commodities broker. Mr. Saxton, the Co-Founder, and Co-CEO of Green Gorilla, is 52 years old, and currently resides in Malibu with his wife and daughter.