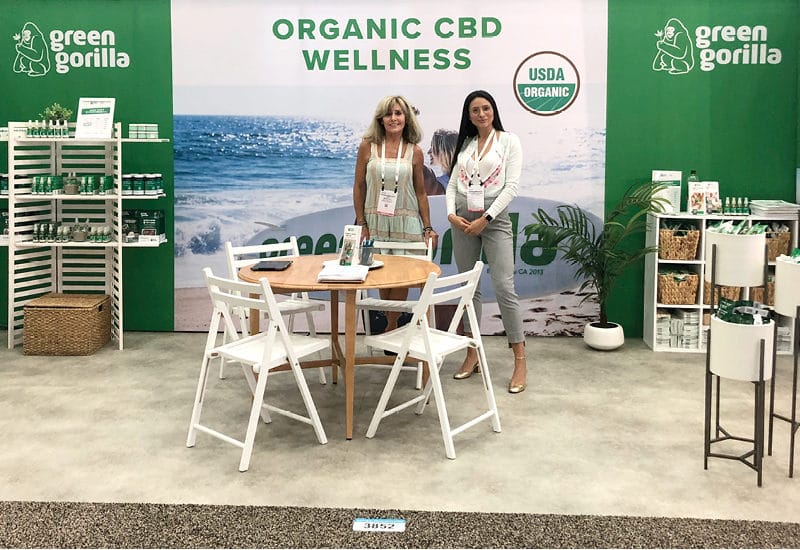 Green Gorilla™ will be out in full force to showcase its line of all- natural organic CBD products at the annual Natural Products Expo East industry trade show Sept. 12-14 at the Baltimore Convention Center in Baltimore, MD at booth # 3852 and a satellite booth at #5202 the event. Come find the Green Gorilla!
Main booth at #3852 and Satellite booth at #5202
Among the new products Green Gorilla will be showing the thousands of retailers who attend the event are a just-launched 2400mg full-spectrum whole-plant oil that is 100 percent USDA Certified Organic for humans, pets and equine care, a 750mg CBD balm, a 300mg CBD balm for pets and horses, single serving CBD pet treats and single serving CBD gummies.
Natural Products Expo East is one of the largest trade shows for natural products and has been bringing retailers and manufacturers together since 1985. The show is attended by more than 27,000 industry executives with more than 1,500 brands represented on almost 200,000 square feet of show floor.
Green Gorilla™ has made significant progress expanding its retail distribution during 2019 and can now be found in more than 5,000 retail locations in the U.S. and Europe as well as online.
**NEW**

Botanical CBD Balm – Intensive Relief + Arnica 750mg
Made with Organic Oils
Green Gorilla™ is a vertically integrated global brand in the hemp and cannabis industries and a leading manufacturer of USDA certified organic hemp-derived cannabidiol (CBD) products such as pure CBD oil, full-spectrum CBD oil, CBD topicals, CBD gummies, CBD for pets and CBD for horses. The company markets its organic supplements and topicals under the brand Hemp & Olive™. Green Gorilla™ was established in 2013 by founder Steven Saxton. Green Gorilla™ products are sold at more than 5,000 retailers in the U.S., Europe and online. The company is based in Malibu, California. More information is available at Green Gorilla's website, https://ilovegreengorilla.com.
Gorilla FarmCo™, a subsidiary of Green Gorilla, owns and operates more than 1,500 acres of organic hemp farmland and has farming partners in Arizona, California, Colorado, Nevada and Oregon. Gorilla FarmCo™ utilizes sustainable organic agricultural practices benefiting the environment by maintaining soil quality without the use of chemical fertilizers, reducing soil degradation and erosion through cover crops and saving water by increasing soil organic matter. Gorilla FarmCo™ deploys farming techniques that protect the environment, public health, human communities and animal welfare. More information is available at Gorilla FarmCo's website, https://gorillafarmco.com.
FORWARD-LOOKING STATEMENTS: This press release may contain certain forward-looking statements within the meaning of Section 27A of the Securities Act of 1933, as amended, and Section 21E of the Securities Exchange Act of 1934, as amended. Readers are cautioned that all forward-looking statements contained herein are reasonable, any assumption could be inaccurate and therefore, there can be no assurance that the forward-looking statements included in this press release will prove to be accurate. In light of the significant uncertainties inherent in the forward-looking statements included herein, the inclusion should not be regarded as a representation by the Company or any other person that the objectives and plans of the Company will be achieved.