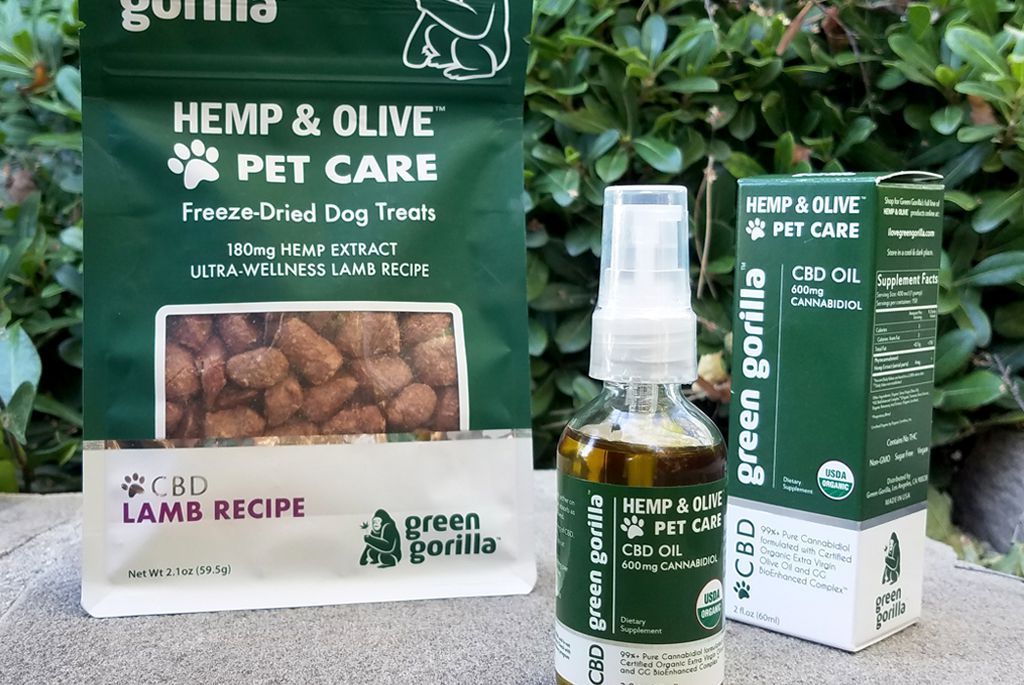 United Pacific Pet, LLC to distribute Green Gorilla line of CBD pet products to pet retailers, feed stores, veterinarians, kennels and other pet professionals in California, Arizona, Nevada and Hawaii.
LOS ANGELES, October 17, 2018 – Green Gorilla™, a leading manufacturer and brand of cannabidiol (CBD) products, has appointed United Pacific Pet, LLC, a one-hundred-year-old company and one of the largest west coast pet food and pet products distributors, to distribute the full Green Gorilla line of CBD products for pets to their extensive customer list in the four states they serve.
Green Gorilla™ offers a line of pure CBD oil products for pets that are available in concentrations of 150 mg, 600 mg and 1500 mg. Also available is a whole plant oil with a 1200 mg concentration. Green Gorilla™ recently launched Freeze-Dried Lamb Flavor Dog Treats; each package contains 180 mg of pure CBD hemp extract lamb-flavored treats, which are freeze-dried, 100 percent natural with no fillers or additives, non-GMO, gluten-free, sugar-free, lab-tested, cruelty-free and do not contain any THC. A 48-hour controlled freeze process locks in freshness and nutrients without cooking or over-processing, guaranteeing no nutrients are lost.
Green Gorilla™ equine care CBD oil products are available in 750 mg, 3000 mg and 7500 mg concentrations and designed to play a key role in keeping horses healthy, looking good and performing their best.
"Pet owners are seeking natural and effective alternatives to prescription medications for their dogs to avoid side effects and a variety of other problems that may occur when using traditional medications," said Steven Saxton, founder and CEO of Green Gorilla, Inc. "Through United Pacific Pet, we will be able to extend our retail reach and bring Green Gorilla products to a greater number of consumers throughout the Western United States."
CBD products can be used to provide relief and support. Green Gorilla™ CBD products are USDA NOP Certified Organic, non-GMO, vegan, paleo, gluten-free, sugar-free and THC free. The products are formulated with organic 99+ percent pure cannabidiol along with GG BioEnhanced Complex™, Green Gorilla's proprietary blend of certified organic botanicals, herbals and essential oils to further optimize bioavailability.
United Pacific Pet is one of the largest California pet food and pet products distributors. The privately held company has been serving retailers, feed stores, veterinary clinics and other pet professionals throughout the west since 1918. United Pacific Pet manufactures its own line of bird and small animal products and provides the independent pet channel with innovative, high-quality foods and animal care products. The company serves customers in a variety of channels including pet retailers, veterinarians, kennels and other pet professionals primarily in California, Nevada, Arizona and Hawaii.
Green Gorilla™ is an international brand in the hemp and cannabis industries and a leading manufacturer of cannabidiol (CBD) organic supplements, topical, pet and horse care products using GG BioEnhanced Complex™ for the highest bioavailability. The company markets its supplements and topical products under the brand Hemp & Olive™ and its organic biodynamic agricultural products for the cannabis industry under the Master Grower™ brand. Green Gorilla™ was established in 2013 by founder Steven Saxton. Green Gorilla™ products are sold at 1,000+ retailers in the U.S. More information is available at ILoveGreenGorilla.com, Twitter: @GreenGorillaInc, Instagram: @GreenGorilla, Facebook: /ILoveGreenGorilla, GreenGorilla.com.br (Brazil), GreenGorilla.ca (Canada) and Mastergrower.pro. Third-party lab tests of Green Gorilla™ CBD products are available at ILoveGreenGorilla.com/science.
FORWARD-LOOKING STATEMENTS: This press release may contain certain forward-looking statements within the meaning of Section 27A of the Securities Act of 1933, as amended, and Section 21E of the Securities Exchange Act of 1934, as amended. Readers are cautioned that all forward-looking statements contained herein are reasonable, any assumption could be inaccurate and therefore, there can be no assurance that the forward-looking statements included in this press release will prove to be accurate. In light of the significant uncertainties inherent in the forward-looking statements included herein, the inclusion should not be regarded as a representation by the Company or any other person that the objectives and plans of the Company will be achieved.