A premium CBD brand that features over 25 true farm-to-shelf USDA Certified Organic prod-ucts, the most of any brand on the market
Green Gorilla owns and operates 1474 acres of USDA certified organic hemp farmland making it the only true farm to shelf certified organic CBD company
Green Gorilla continues retail expansion with over 5,000 retailers in the U.S. and upcoming international launches.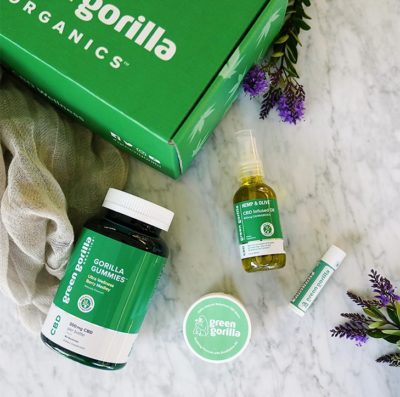 MALIBU, CA, Sept. 29, 2020 – Green Gorilla™, the industry leader of certified organic hemp cannabidiol (CBD) products celebrates seven years in business this month. Green Gorilla has established itself as the leader in the farm-to-shelf hemp and CBD industry with its own 1474 acre certified organic farm in Arizona and a suite of over 25 true farm-to-shelf USDA certified organic products —the most of any CBD brand on the market.
Since its launch, the company has expanded its executive team with experienced and accomplished experts who have catapulted the legitimacy, quality and education of Green Gorilla's CBD products in the market. The USDA organic certifications for the company's Gorilla FarmCo farming operations which it owns and operates and USDA organic CBD products through a third-party organic certifying body, Oregon Tilth, lead the industry in natural organic healing, unparalleled quality and sustainable farming.
"Green Gorilla is building a trusted brand
with an accomplished management team,
superior products, and brilliant marketing
capabilities."
Steven Saxton
CEO AND FOUNDER GREEN GORILLA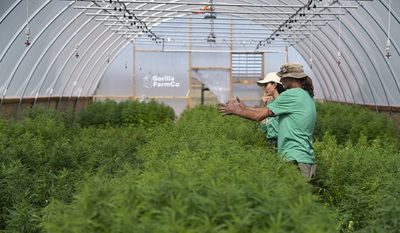 Saxton continues, "We're grateful to bring customers around the world the miraculous benefits of CBD and we're thankful for our dedicated customers, retailers, and wholesalers who have made Green Gorilla into the brand it is today."
About Green Gorilla™:
Established in 2013 in Malibu, California, Green Gorilla™ is the industry leader in premium USDA Certified Organic Hemp CBD products from farm to shelf. The company's organic hemp CBD products include supplements, skincare, pet and equine lines. Green Gorilla™ products are currently sold in more than 5,000 retailers across the U.S. and are also available online. Global expansion plans are currently underway in South America, Europe, Scandinavia and Asia. The company's vertically integrated hemp farming operation, Gorilla FarmCo owns and operates 1,474 acre USDA certified organic hemp farm, making it one of the largest certified organic farm-to-shelf operations. Founders Sir Steven Saxton and Katherine Guevara Saxton were the first entrepreneurs to launch a USDA certified organic CBD brand.
Green Gorilla:https://ilovegreengorilla.com.
Gorilla FarmCo: https://gorillafarmco.com.
FORWARD-LOOKING STATEMENTS: This press release may contain certain forward-looking statements within the meaning of Section 27A of the Securities Act of 1933, as amended, and Section 21E of the Securities Exchange Act of 1934, as amended. Readers are cautioned that all forward-looking statements contained herein are reasonable, any assumption could be inaccurate and therefore, there can be no assurance that the forward-looking statements included in this press release will prove to be accurate. In light of the significant uncertainties inherent in the forward-looking statements included herein, the inclusion should not be regarded as a representation by the Company or any other person that the objectives and plans of the Company will be achieved.