This bottle takes me back to the time I would pick up supplements from the local health food store. It is rather large it's a childproof cap. It looks quite serious, but the gummies inside are delicious.
After having my wife help me open the bottle, because of childproofing, I was finally able to enjoy one of these delicious Gummies. Not only did they get the taste right, they have addressed every dietary issue I could think of. These are free of THC, non-GMO, vegan, they are Kosher, also gelatin free, gluten-free, soy free, and last but not least cruelty free. And with all of that, they taste just like Gummy bears. There is no strange aftertaste or anything like that. I started to experience the calming effects of the CBD within minutes of ingesting one. Gummy edibles are notorious for their fast action, in my opinion. Usage always varies.
The bottle is wrapped with a plethora of product information. It could be a great read if you're new to these kinds of products. The variety I tried today was Ultra Wellness Berry Medley. I had an all-around good experience with this product of course after getting the bottle open. The one thing I had to keep in mind was that this is medicinal. It's very diffcult to eat just one of these at a time. Good thing all medications aren't this tasty. So, keep this brand in mind when you're looking for something tasty that could help you chill.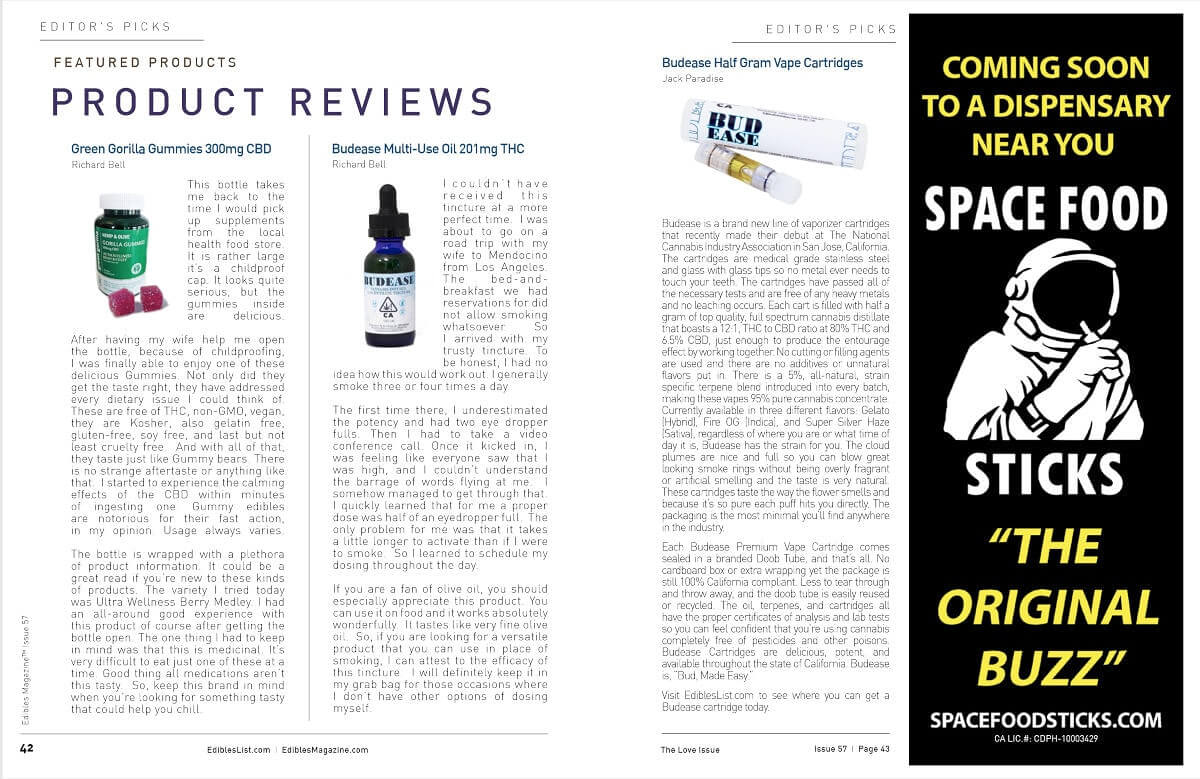 – Written by Richard Bell
Green Gorilla™ is a vertically integrated global brand in the hemp and cannabis industries and a leading manufacturer of USDA certified organic hemp-derived cannabidiol (CBD) products such as pure CBD oil, full-spectrum CBD oil, CBD topicals, CBD gummies, CBD for pets and CBD for horses. The company markets its organic supplements and topicals under the brand Hemp & Olive™. Green Gorilla™ was established in 2013 by founder Steven Saxton. Green Gorilla™ products are sold at more than 5,000 retailers in the U.S., Europe and online. The company is based in Malibu, California. More information is available at Green Gorilla's website, https://ilovegreengorilla.com.
Gorilla FarmCo™, a subsidiary of Green Gorilla, owns and operates more than 1,500 acres of organic hemp farmland and has farming partners in Arizona, California, Colorado, Nevada and Oregon. Gorilla FarmCo™ utilizes sustainable organic agricultural practices benefiting the environment by maintaining soil quality without the use of chemical fertilizers, reducing soil degradation and erosion through cover crops and saving water by increasing soil organic matter. Gorilla FarmCo™ deploys farming techniques that protect the environment, public health, human communities and animal welfare. More information is available at Gorilla FarmCo's website, https://gorillafarmco.com.
FORWARD-LOOKING STATEMENTS: This press release may contain certain forward-looking statements within the meaning of Section 27A of the Securities Act of 1933, as amended, and Section 21E of the Securities Exchange Act of 1934, as amended. Readers are cautioned that all forward-looking statements contained herein are reasonable, any assumption could be inaccurate and therefore, there can be no assurance that the forward-looking statements included in this press release will prove to be accurate. In light of the significant uncertainties inherent in the forward-looking statements included herein, the inclusion should not be regarded as a representation by the Company or any other person that the objectives and plans of the Company will be achieved.