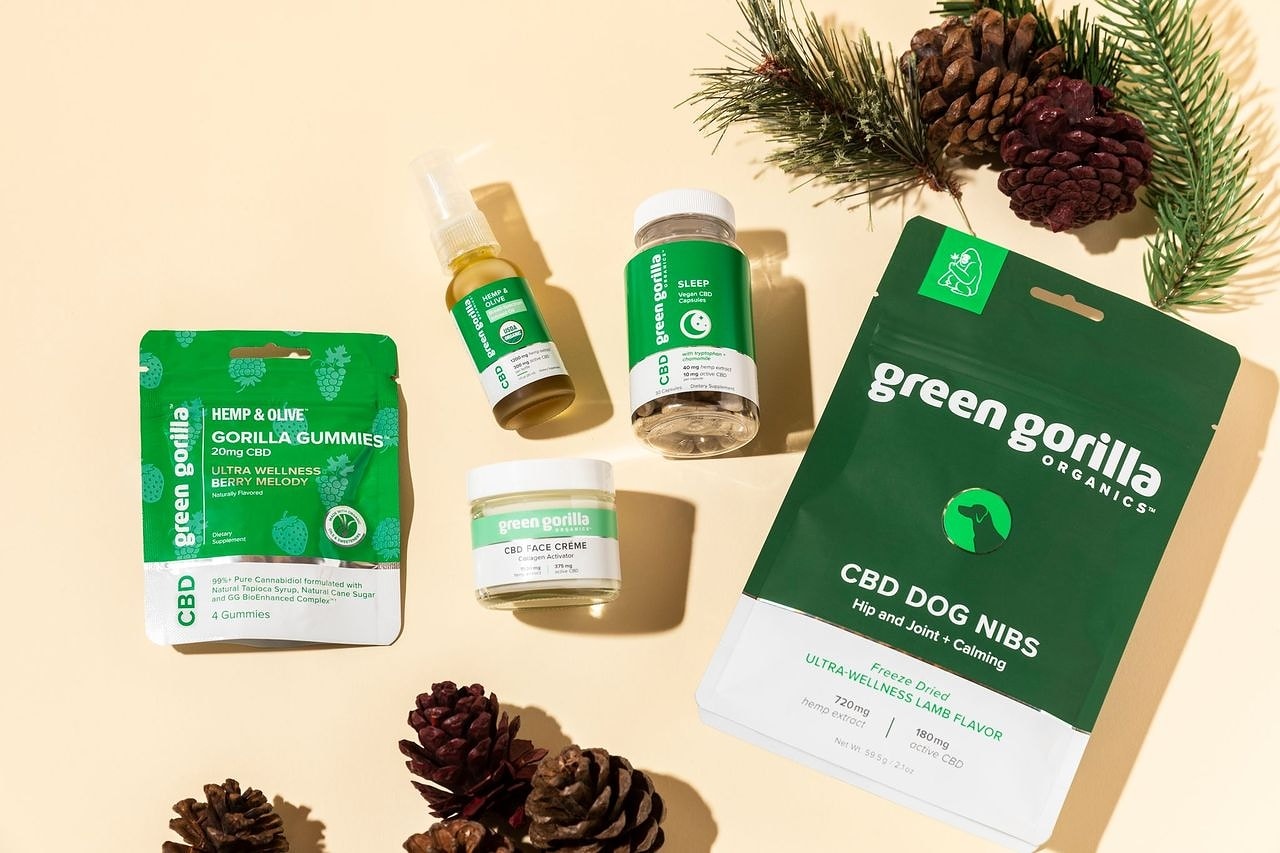 Let's find comfort in things that we love this season. Whether they're gifts for your family, friends, or something just for you, we have everything you're looking for – gifts that give a little confidence, a lot of wellness, and of course, a touch of joy. Find everything from organic CBD gummy sweets, CBD relief balms, CBD for pets, CBD capsules, CBD oil supplements, and more.
Tis the season for gifting. So, go ahead and show those closest to you just how much their wellness means to you. Here are the best organic CBD wellness gifts this holiday season.
The Sweetest Gift
Our Gorilla Gummies are honestly the tastiest and made with certified organic, vegan ingredients. Each delicious berry medley-flavored gummy contains 5mg of pure CBD, so finding your ideal dose is easy. They make for a whimsical tiny gift for anyone with a sweet tooth and available in single-serve 12 packs.
For the CBD Beginner
We all know someone who is curious about CBD but hasn't jumped in yet. That someone might even be you! If so, you're in luck because there's no better way to take your first CBD steps than with our Favorites Bundle. It features Pure CBD oil to calm the mind and restore balance. Our delicious CBD gummies are perfect for when you're craving something calming & sweet. The botanical balm soothes sore and achy muscles, and the CBD Lip Balm moisturizes and rehydrates dry lips. This bundle can become a daily part of any wellness routine.
For the Fitness Enthusiast
If you are looking to get something thoughtful for the fitness fanatic on your list this Botanical CBD Balm 3000mg is the ultimate gift! This fitness essential is designed to facilitate muscle recovery, help alleviate soreness, and improve performance. Formulated with plant-based ingredients, this super potent and healing balm contains 3000mg of active CBD blended with arnica, turmeric, and eucalyptus. It's like a stretch massage in a 1.75oz jar.
The Gift of Better Sleep
We truly have something for everyone, even the staunchest aunt will be impressed and delighted with our CBD Sleep Capsules. An all-natural, herbal sleep aid that will help wind the brain down and prepare the body for a good night's rest. Our vegan CBD capsules combine Hemp extract CBD with herbs such as Tryptophan, Chamomile, Vitamin B-6, and Hops, traditionally taken to support relaxation. They will wake up feeling revitalized and ready to take on the day's tasks. It comes packaged in a small green box, you just need to add the bow!
For the Most Loyal Friend
Our furry friends are an important part of the family, let your best buddy know just how much they mean to you. Our CBD dog nibs are a wonderful way of giving your canine friend that perfect dose of CBD. Made with the highest quality freeze-dried lamb, 180mg of CBD, and our BioEnhanced Complex™ (Organic Turmeric Root Extract, Organic Rosemary Leaf Extract, Organic Sunflower Lecithin) to help keep your pet calm, relaxed and support healthy hips and joint function.
The Ultimate Beauty Hack
Known for its healing properties, CBD offers serious antioxidant, anti-aging, and reparative benefits. Organic Hemp CBD is the ultimate skincare ingredient which can be beneficial in treating skin dryness and free radical damage. Our CBD Face Creme and CBD Body Lotion will leave your skin feeling rehydrated, rejuvenated, and youthful! Formulated with hemp CBD oil infused with a potent blend of resveratrol, grape cell extract, shea butter, aloe vera, and CoQ10 to soothe and stimulate collagen. These formulas have no parabens, phenoxyethanol, phthalates, or any other harmful chemicals. Gift the ultimate self-care and beauty trend of 2020!