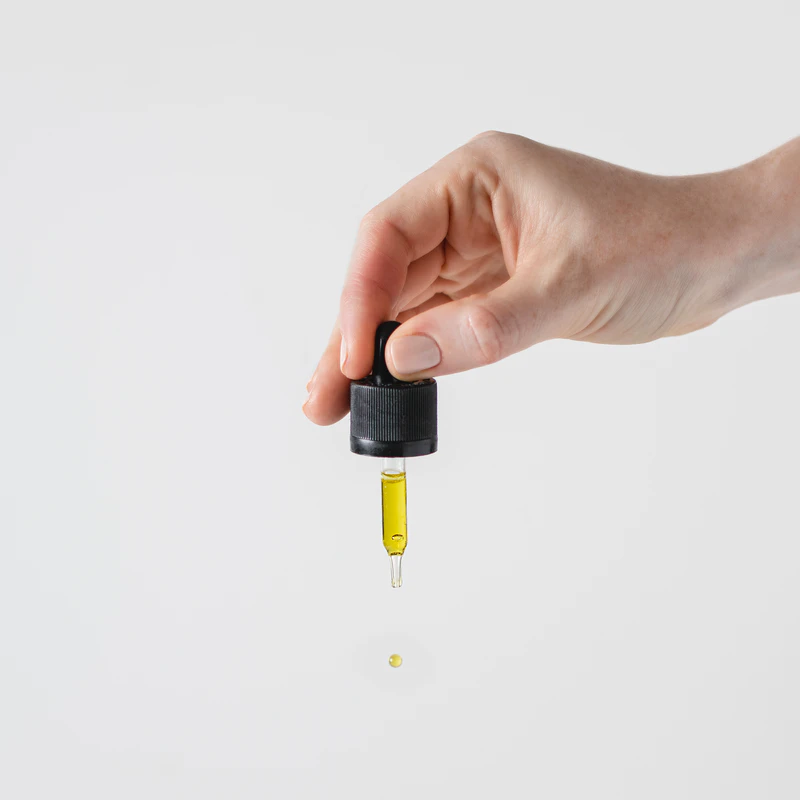 No method of administering CBD is inherently "better" than another. Whether you're snacking on gummies or applying daily CBD skincare, each has its own unique attributes that can work differently depending on your symptoms and individual body chemistry. In the end, choosing a CBD product comes down to what you want out of your product and simple personal preference.
In this article, we'll go through the primary methods of how to use CBD and what those methods are most suited for. This is a great basic guide if you want to explore the different ways CBD can affect your body and mind.
Sublingually
CBD Oil
CBD oil is just a step away from hemp extract in its raw form. CBD is potent in small quantities, so CBD oil typically uses a carrier oil in a carefully-made formula to make the CBD easy to measure. By choosing healthy carrier oils like organic extra-virgin olive oil, CBD oil can also increase the CBD's bioavailability, which is essentially how much CBD makes its way into the bloodstream.
Many people prefer CBD oil over other forms like gummies because of its bioavailability and fast-acting effect. For beginners who want to know how to dose CBD oil, that all depends on your personal preferences. The most effective way to learn how to use CBD oil is by holding it under the tongue for at least 30 seconds (sublingual administration) or by holding it against the inner cheek. Your gums and the interior of your mouth are very close to your bloodstream, meaning that the CBD can absorb quickly and effectively for a fast-acting effect.
When using CBD oil, make sure you choose it from an organic source with third-party testing. Some manufacturers use cheap oils or chemicals in their products, which don't allow you to experience the true mind-and-body benefits of CBD. Choose brands like Green Gorilla™, which offers farm-to-shelf quality and organic certification.
Used for:
Immune system support
Reduced stress
Relief from chronic aches and discomfort
Better sleep
Overall wellness
Orally
CBD in Cooking
CBD oil can be used in cooking to make a huge number of delicious recipes. So long as you don't cook the oil improperly and damage the CBD's potency, you can incorporate CBD oil into virtually anything, including smoothies, salads, and even baked goods.
If you're not a fan of the taste of CBD oil or having to hold it under your tongue, you can learn how to use CBD oil in recipes to make tasty snacks or meals. This means the CBD will be absorbed through your digestive system, therefore working its way into your bloodstream slower than it would via sublingual administration.
Used for:
Full body and mind effects
People who prefer the slow-acting effects of CBD through the digestive system
Long-lasting relief
People who are averse to the taste or sensation of CBD oil
CBD Capsules
Capsules can be filled with dried CBD powder or liquid CBD oil. Either way, they're meant to be swallowed and not chewed. They are also absorbed through your digestive system, allowing for a slower, more gradual release.
Capsules are perfect for people who don't like the taste of CBD oil or the act of holding it under the tongue. Learning how to use and how to dose CBD capsules is easy. They're an easy way to get your daily supplement, and they have a slow, lasting effect throughout the body that many people find desirable. Depending on the formula, you can find CBD capsules that blend natural elements for different purposes like sleep, relaxation, defense, recovery, and overall balance.
Many commercial capsules for medicine or supplements are not vegan, so if you follow a plant-based diet, make sure your capsules explicitly say they're vegan. (Green Gorilla™ capsules are plant-based and vegan).
Used for:
All-day supplementation
Full body and mind effects
Slow-release effects for sleep or all-day energy
CBD Gummies
CBD gummies are a popular and delicious form of CBD edibles. They're available commercially and come in a variety of delicious flavors. They're infused with a fixed dose of CBD oil, making it easy for you to find the perfect dose that works for you.
Like capsules, many CBD gummies are not vegan. If you follow a plant-based diet, look for options like Green Gorilla™ organic vegan CBD gummies.
Used for:
Full body and mind effects
Tasty edible option that's perfect for beginners
Portability
Topically
CBD Topicals
CBD topicals include lotions, balms, sprays, and anything that is rubbed onto the skin.
CBD topicals are absorbed through the sebaceous glands, located in the hair follicles. The result is a highly localized effect that has a strong beneficial impact on the surrounding skin, muscles, and joints. When learning how to use CBD for the first time, topicals are one of the most approachable methods for all users.
CBD administered topically does not make its way into your bloodstream or digestive system, which means it does not have a full-body effect. This is preferable for some people who don't need or desire full-body effects but still want the soothing relief of topical CBD for sore muscles or injury recovery.
Used for:
Targeted relief
Sore muscles
Aching joints
Skin dryness or irritation
Muscular tension or stiffness
Injury recovery
Inhalation
CBD Inhalation
It is possible to administer CBD via inhalation, usually through a vaporizer or similar device.
If you're still unsure how to use CBD, we do not recommend the common method of smoking or inhaling CBD. While the effects are extremely fast acting, smoking anything is detrimental to your respiratory system. To experience the best CBD has to offer, you should take it consistently, and smoking consistently is bad for your health. Furthermore, vape and eLiquids often contain harmful chemicals like addictive nicotine and chemical solvents, and their contents are not always carefully regulated in the United States. Use caution if you choose to inhale anything.
Used for:
Instantaneous, full-body effects
High potency
Learn More about How to Use CBD at Green Gorilla™
At Green Gorilla™, we carry a variety of all-natural organic options that everyone can enjoy. Everyone's body and mind work in different ways, and we invite you to browse our selection and find the products that intrigue you the most. We have a wealth of information on our site and our blog, so we encourage you to get informed and see how CBD can improve your lifestyle.