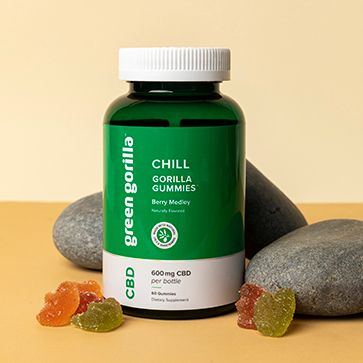 CBD Gummies
Both delicious and effective, Green Gorilla™ organic CBD gummies provide a daily dose of recovery, rest, and overall well-being in a bite-sized snack.
Our three delicious and unique berry flavors are complemented by organic oils, rosemary, turmeric, and polyphenol-rich extra-virgin olive oil to promote the best benefits of CBD. Try our CBD gummies for sale today and you'll agree that wellness has never been tastier.
Find the Highest Quality CBD Gummies
Shop All CBD Gummies
Organic CBD Gorilla Gummies™ 50mg

$

5.99 –

$

71.99 – or subscribe and get

20% off

Out of Stock

A daily dose of these certified organic CBD gummies can help support everyday recovery, mood, rest, and overall well-being. Our formula includes delicious, all-natural ingredients that are easy to incorporate into any lifestyle. Experience a quick and tasty start to your wellness journey when you order Green Gorilla™ CBD gummies today.

Available in 600mg.

CBD CHILL Gorilla Gummies™ 600mg

$

59.99 – or subscribe and get

20% off

Add to Cart

$59.99

Supplement with CBD the tasty way! A daily dose of our Certified Organic CBD gummies will help support everyday recovery, mood, rest, and overall wellness. 

Our organic 600 mg CBD gummies are vegan and made with 0% THC. Every batch is third-party tested by an ISO-certified facility. Each gummy contains 10 mg of CBD and the finest ingredients available in nature.

Available in Single Serve 12-Packs.

Buy The Best CBD Gummies and Taste the Difference

Green Gorilla™ is more than a CBD distributor: we're a high-quality farm-to-shelf brand that's setting the standard for the entire CBD industry.

We make it easy to bring the power of CBD into your life. Our CBD gummies are packed with natural nutrients that work together for an effective, relieving solution to your aches, worries, and overall well-being.

Certified Organic

Green Gorilla™ was the very first USDA Certified Organic hemp CBD brand. Gorilla Gummies™ are made with hemp that is organic, sustainable, and potent.

Independently Lab Tested

An ISO-certified third party individually tests all of our products for potency, purity, and quality. You won't find herbicides, harsh chemicals, or anything unexpected in your CBD gummies—just pure, organic CBD.

Experience Wellness

Our CBD gummies for sale help support your mind and body by relieving stress and anxiety or soothing aches and sore muscles. Gorilla Gummies™ are great for on the go or at home supplements. You can take them anywhere you need. Buy our CBD gummies as either a 50mg bag or a 600mg bottle. These gummies come in a melody of delicious flavors such as Wild Berry, Strawberry and Gorilla Berry. Take 2 – 4 of our 0% THC gummies daily for overall health support and wellness..

What Others Are Saying About Gorilla Gummies™

Medically Reviewed

CBD is gaining a lot of attention in the medical industry, and for good reason. This plant compound has been the focus of many research studies over the years which have found that it offers a whole host of wellness benefits. One study showed the positive impacts of CBD on our neuroreceptors and a significant decrease in stress levels.

Green Gorilla™ CBD gummies are vegan and produced with the highest quality ingredients. These gummies are an easy way to add CBD to your diet so you can experience all these benefits for yourself.

Frequently Asked Questions

What do CBD gummies taste like?

The taste of raw CBD is rich and herbal, and some people may not like it. The CBD gummies for sale at Green Gorilla™ abate this by using a sweet flavor and satisfying texture to make it taste more like candy.

Are your CBD gummies vegan?

Yes, we make our Gorilla Gummies™ completely vegan. We use the finest ingredients to make the vegan gummy-like texture as we add in our CBD oil and flavors.

How many CBD gummies should I take?

The amount of gummies you consume at one time depends on why you're taking them. Each gummy contains 10mg of CBD. When consuming CBD for general well-being we suggest starting with a daily dose of 10-30mg. 

Are your products sustainable?

Are your CBD gummies for sale tested?

Yes, we test all of our products by a third-party lab and we share all of our batch results online for you to view. We take pride in knowing you're receiving only the highest quality ingredients and products from Green Gorilla™.

Are these gummies psychoactive?

Not at all. Our Gorilla Gummies™ contain 0% THC so you will not have to worry about getting "high" or being impaired.

Do your products contain GMOs?

No. You won't find any GMOs or harsh chemical solvents in our products. We use only pure, unaltered hemp extract—just the way nature intended it to be.

What can I use Gorilla Gummies™ for?

CBD gummies help restore your body and mind's natural balance. Buy CBD gummies to relieve the stress of modern life, soothe aches and discomfort, sleep well, and much more.

What Makes Green Gorilla™ CBD Gummies Different?

Our founders witnessed the incredible abilities of CBD long before there was a trend. Since then, the Green Gorilla™ mission has been to deliver safe, high-quality, organic CBD to help improve people's lives through natural mind-body balance.

Green Gorilla™ is committed to regenerative and sustainable farming for our Gorilla FarmCo® organic hemp farm. We work towards mitigating climate change and protecting the environment, and we're proud to be a member of the Hemp Industries Association. You can feel good about where you purchase CBD gummies for sale when you shop at Green Gorilla™.
Shopping Cart