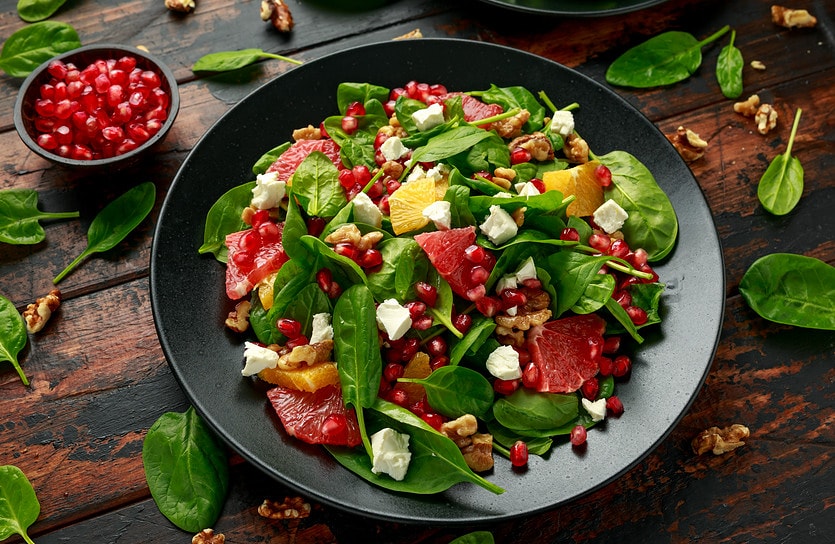 Spinach and Blood Orange Berry with CBD Raspberry Vinaigrette
Yield: 4 servings
|

Total time: 40 mins

By: Jenny Dao

Bright citrus, earthy and sweet, make a light yet complex winter harvest side that compliments any main coarse. This is a quick and easy salad that delivers flavor, antioxidants and vitamins to support immune health and helps reduce oxidative stress!
Ingredients
5 cups baby spinach
3 medium size blood orange, slices
1 large size orange, slices
6 tbsp pomegranate seeds
Fresh mint leaves, for garnish to taste
2 cups Feta cheese crumbles
Kosher salt, to taste
Freshly ground black pepper, to taste
Red Raspberry Vinaigrette Dressing Recipe
5 tbsp raspberry vinegar
1/2 chopped shallot
2 tsp organic honey
3 tsp organic Dijon mustard
1 tsp Kosher salt
12 pumps Green Gorilla's 3000mg Full Spectrum CBD oil
3/4 cup fresh raspberries
Blend raspberry vinegar, shallot, organic honey, organic Dijon mustard, and Kosher salt in a blender. Gradually blend in Certified Organic Green Gorilla CBD oil and then add fresh raspberries. Pulse to combine until smooth and set aside. All dressings can be served right away or chilled for later.
Prep for Toasted Walnuts
Preheat oven to 350F. Arrange walnuts on a cookie or silicon sheet in a single layer. Bake 8-10 minutes, checking frequently. Set aside and let cool.
Prep for Blood Orange slices
Slice a little of the top and bottom of the blood orange to give two flat edges and give a stable cutting surface. Using the front of the knife, starting at the top slice downwards following the curve of the fruit. Cut away all the skin and pith, ensuring not to remove any flesh. Lightly wash off the rest of the peel. Roll the orange and its side, use the knife to gently slice the blood orange against the membrane segments. Then set aside.
Prep for Pomegranate seeds
Wash the pomegranate before starting. Cut the pomegranate in half exposing the seeds. Place the pomegranate, cut side down, in your non-dominant hand with your fingers spread apart. Place a deep, medium-sized bowl under your hand with the pomegranate. Take a sturdy spatula or a wooden spoon and begin to whack firmly on the top surface of the pom. Give it some good whacks to release all seeds. Repeat for the other side of pom and set aside the seeds when finished.
Method
Combine and gently toss the baby spinach, orange, and blood orange slices. Then layer the salad with Feta cheese crumbles and pomegranate seeds. Garnish with fresh mint and toasted walnuts. Drizzle the Red Raspberry Vinaigrette dressing on top.
Enjoy- feeling healthy and lovely!
$

74.99 – or subscribe and get

20% off